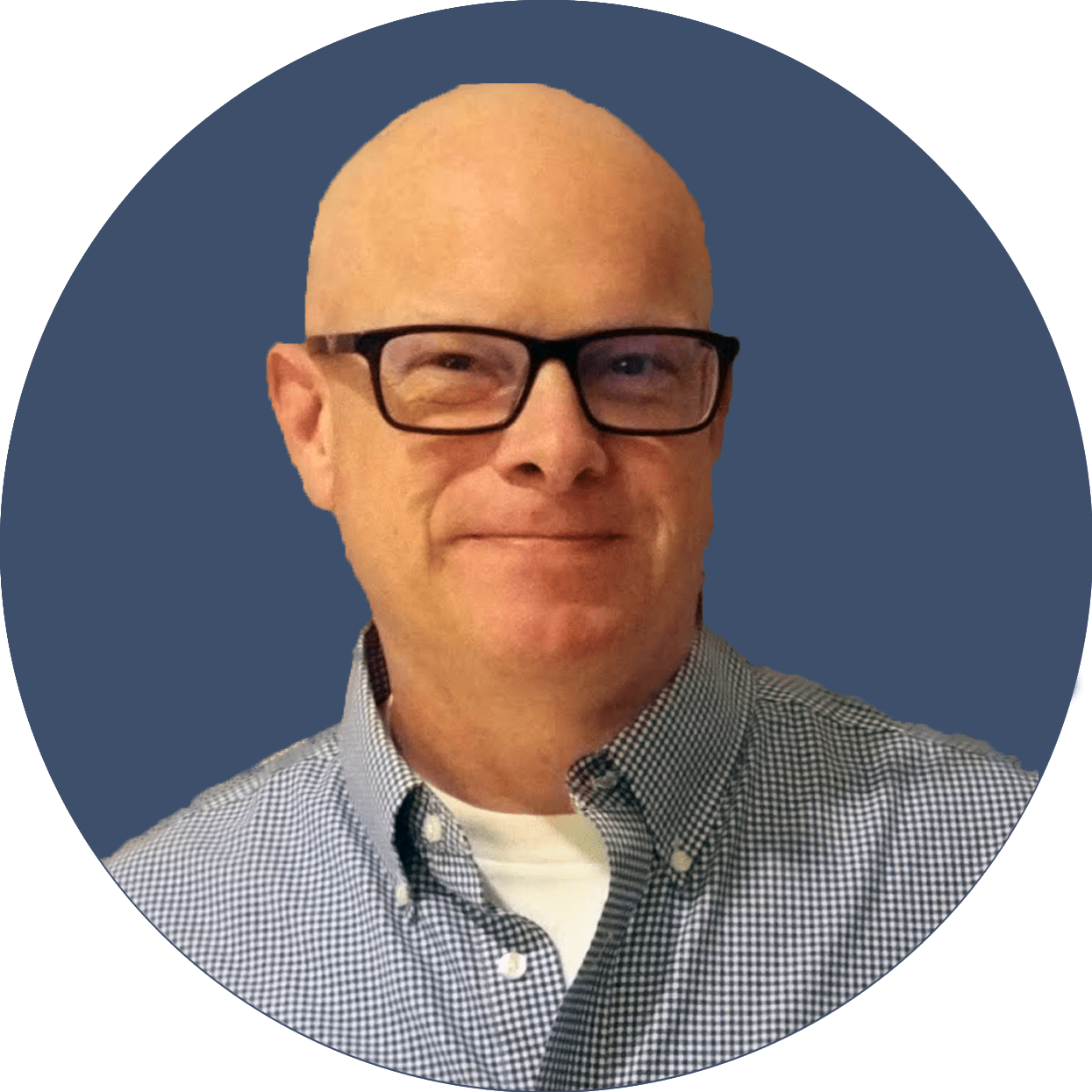 The 12/11 ReadySetLive with Doc is listed below.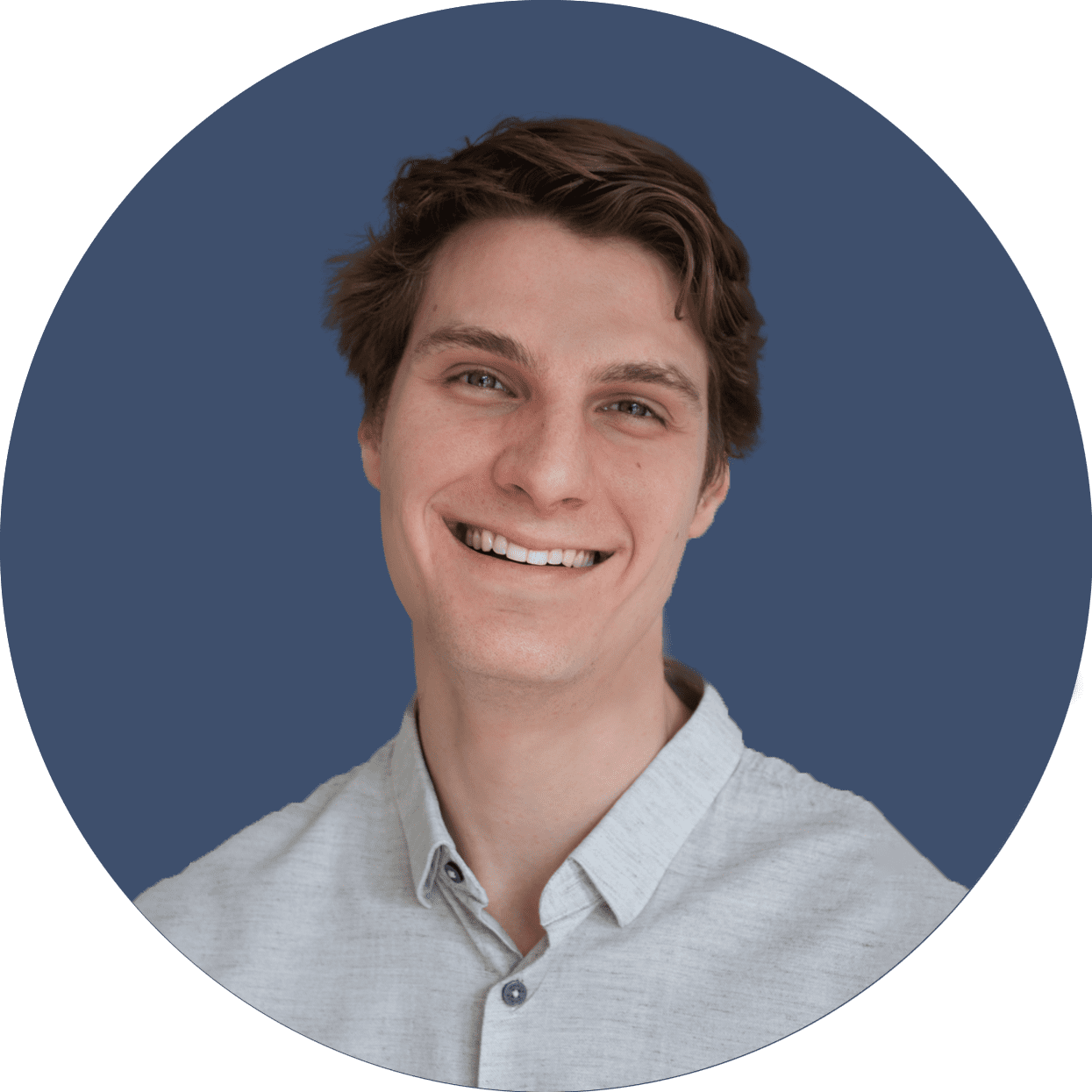 FUNDAMENTAL LEVELS
The Bitcoin market is currently in a strong, weekly downtrend and there is a lot of fear in the market. In this article, I want to provide you with where I see a fundamental opportunity where the rest of the market sees fear, uncertainty and doubt.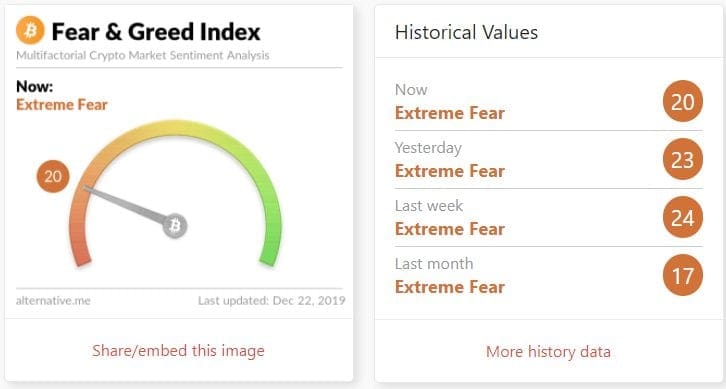 The Plustoken ponzi
In a recent Youtube stream, Willy Woo and David Puell, two bitcoin wizards, presented their overview of the market and where the sell pressure may be coming from.
Their position was that an exceptionally large volume of BTC was coming to market due to the PlusToken ponzi scheme. For context, miners bring in 12.5BTC per 10mins. Estimates by a Bitcoin researcher ErgoBTC suggests PlusToken has been selling around 7 BTC per 10mins and held around 1% of the entire Bitcoin supply.
Estimates suggest that PlusToken has unloaded around 50% of their inventory and has recently slowed their selling. In is theorised that the scheme may be awaiting uplift in the market price before selling into strength. Keeping this 'news' item in the back of our minds, we can look into some technical and fundamental indicators to gauge where the opportunity is right now.
If you want to gain insight into the depth of the PlusToken scheme, ErgoBTC was interviewed on the Stephan Liviera podcast the other week which was a fascinating review into chasing coins on-chain.
https://open.spotify.com/episode/2EsMiN3yiSndtriRDajZ0h?si=ktprch5dQXymIXphFoUtcA
Is the Bear Over?
In the past, once price breaches the Realised Cap after an extended bear market, it has historically signalled a sustained bull. In April this year, price nuked through both the realised price and the 200DMA which was followed by a mini-parabolic move up to 14k.
This rally was largely driven by short squeezes and a lack of actual HODL volume occurring on-chain. I covered some of the mechanics in the video back in June where we saw very little movement in the NVT and RVT coupled with the acceleration of 'unrealised profits' at a rate not seen since 2012. I determined that a strong pullback was highly likely.
In the interview with Woo and Puell, they add more clarity to this position as they have been watching the development of Open Interest and funding rates on BitMEX and other leveraged futures exchanges. They mention that throughout 2019, when open interest reaches around 100k BTC, price tends to move in a big way.
Open interest refers to the number of open contracts on BitMEX, Deribit and other futures exchanges. More leverage = more pain = bigger moves.
What this confirms is that the rally from April to July was heavily fuelled by two mechanics. 1) Short sellers in Western Markets getting squeezed on leveraged trading and 2) buy side demand coming primarily from China that was absorbing spot supply to get in on the PlusToken ponzi.
The short summary is that this is a new market dynamic and has not conformed to any previous observations of price action coming out of a bear market, largely a result of leveraged futures trading and ponzi schemes. What a world.
The new bear
From a fundamental position, Bitcoin has shown relevance with four key moving averages over its trading history.

Since July, the market has been in a strong pullback which has now evolved into a Weekly downtrend. Price has broken the 128DMA and 200DMA which in a bull have previously shown to be great buy the dip levels in bull markets.
Since price is now below the 200DMA, we must flip our bias to be bearish in a macro scale. This week, price has also breached below the 128Week MA which has historically acted similar to the realised cap signalling accumulation.
Based on these time-tested moving averages, we are technically into a bear market after experiencing a mini bull but perhaps nearing the bottom.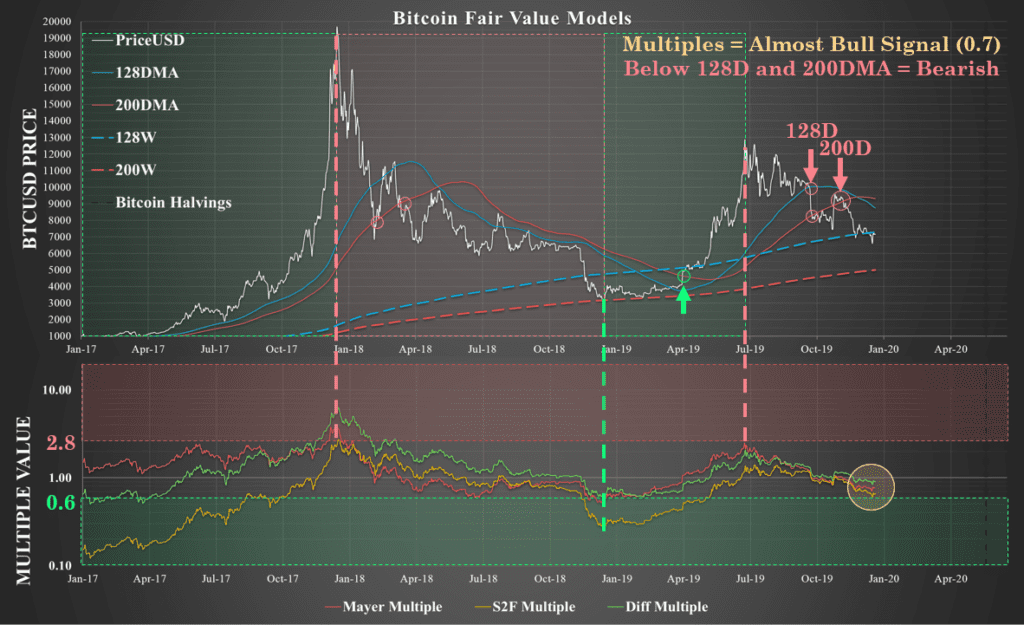 Is it time to bail out?
Not yet.
We have established that the market character is most likely a bear. That said, I want to build a position as to why I think this is actually a period of maximum opportunity for HODL investors who have conviction that Bitcoin represents a new paradigm of the future. I will present some key levels to keep an eye on where I see value.
Remember, price is in a weekly downtrend, as Doc would say, wait for the reversal, no prizes for catching the bottom wick.
Typically, the early stages of a bull market in Bitcoin are characterised by a breach above the Realised price and 200DMA on high volume. This is followed by a period of re-accumulation that involves a retest of the realised price and the 200DMA. During the Bull price often retests the 128DMA as a key Buy the Dip level.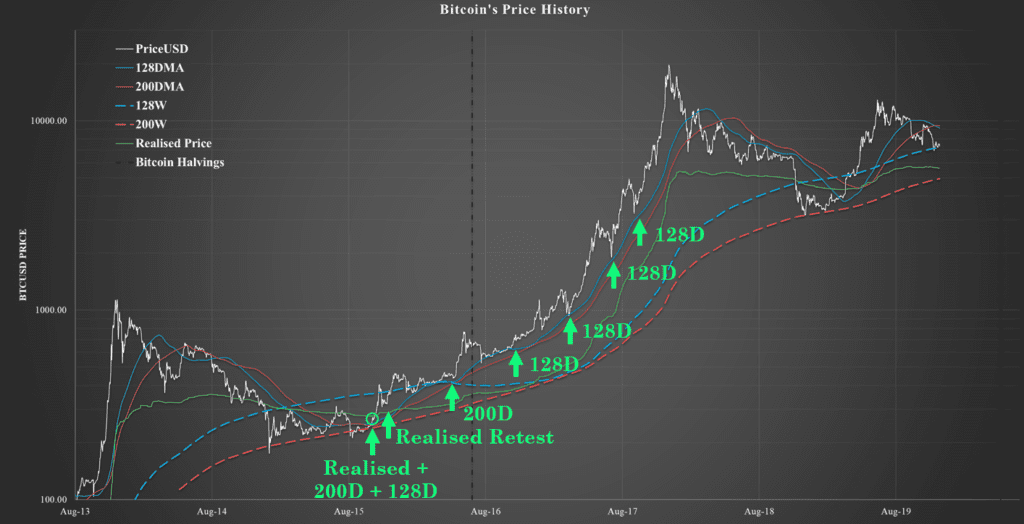 In the 2019 market we achieved escape velocity from the 2018 bear market accumulation zone…but…we never retested the Realised Price or the 200DMA. This provides some context to the unnatural and leveraged acceleration north. As punishment, price has broken below the 128D, 200D and now the 128W Magic Lines signalling a Bear.
This is an unwinding of leverage in the system and is now shown in the shallow decline in the realised price as FOMO weak hands start selling their 10k BTC at 7k. Coins are now moving at a loss which is a good sign for redistribution and an early bottoming signal.
A mini-bear remains a fairly sensible outcome considering the 300% move in 2 months. I believe we are now likely to enter a sideways market of re-accumulation and my gut feel is that the smart money is waiting in this zone.
Below the current price action, there are two extremely strong support levels that also provide confluence with the Mayer, S2F and Difficulty multiples buy zones.
Price is below the 128Week MA = $7280 which is historic accumulation signal
The Realised Price = $5600 and is likely to be retested (or close to)
The 200Week MA = $5000 is the last line of defence
The Mayer, S2F and Difficulty multiples, which are measures of 'fair value', are all hovering around 0.6 to 0.8. Our buy zone with an 80% chance of being correct is below 0.8. If price was to drop and retest say the $6000 level this will be a strong buy signal. I so expect front running plus the fact that the support level from the 2018 bear market is impossible to miss.
What I see is a high conviction confluence event:
The strongest support levels which are yet to be re-tested (Realised + 200WMA)
All three Fair value models firmly in the buy zone between $6500 to $6000
Miners cost of production is also between 3k and 6k and will squeeze the weak.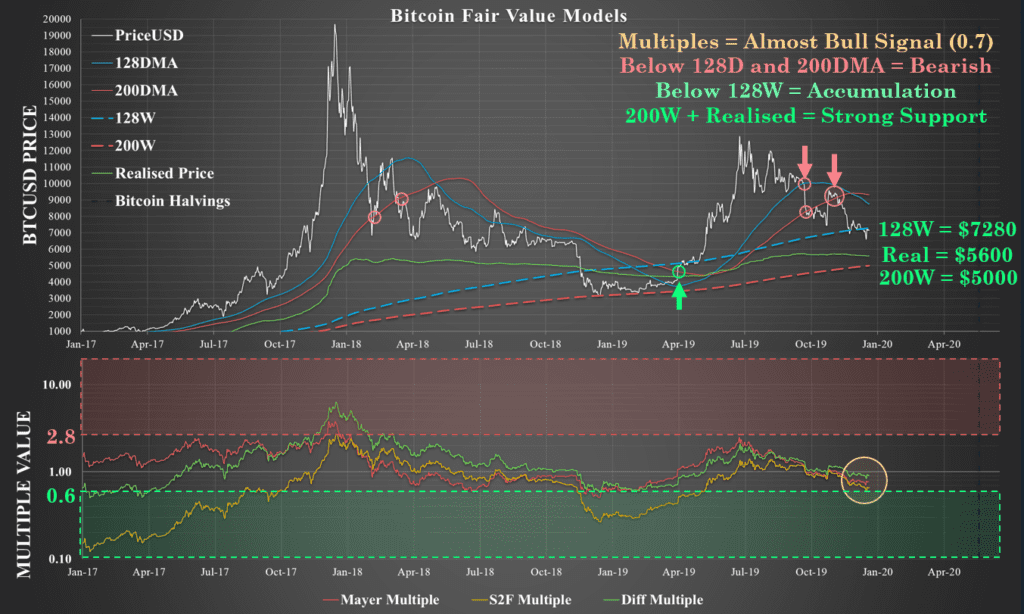 Next steps
What will seal the deal for me will be a reversal of the NVT and RVT ratios. There are some early signs of reversal in the NVTS however I believe this is mostly due to drops in price rather than increase in transaction volume. If we start getting an increase in BTC moving on-chain, that could signal the smart money making large investments.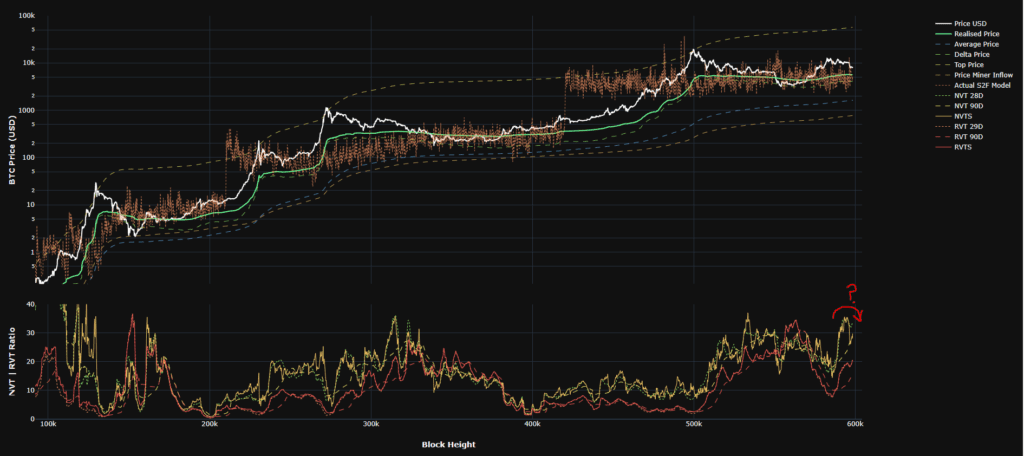 What I want to see is price drop, test the $6000 level and even the mid $5000's before trading sideways and volatile. During this sideways trading (constant price) I want to see the NVT and RVT trending downwards indicating an increase in transaction flow. That will be the sweet spot and a sound fundamental entry for the long HODL.
In terms of invalidation level, if a strong weekly close occurs below the 200WMA, that will be a good sign that the sidelines are a safe bet.
Summary
Definitely a Bear market right now, trade your bias accordingly.
Price is currently hovering above the confluence buy zone across multiple fundamental metrics.
PlusToken still has around 50k BTC to unload and appear to be waiting for higher prices to sell at. I would not be buying resistance right now, only buying support.
Very strong support at 5.6k (Realised) and 5.0k (200WMA). I want Realised Price to be tested, and would prefer that the 200WMA was not tested. That said, both levels are strong support. Be ready to exit if the 200WMA is invalidated on a weekly closing basis.
Mayer, S2F and Difficulty fair value models will be screaming buys at $6000.
The final piece of the puzzle is transaction volume, if we get a downtrend (which is bullish) in the NVT and RVT during sideways trading below 7k, that is a high conviction entry.
Stay frosty out there. Don't catch the knife but also keep in your mind that this could be the zone that folks in the future will say '… people who bought 6k BTC are so lucky…'.
We are not lucky. We are the smart money.
Press the "Connect" Button Below to Join Our Discord Community!
Please DM us with your email address if you are a full OMNIA member and want to be given full Discord privileges.
An Update Regarding Our Portfolio
RSC Subscribers,
We are pleased to share with you our Community Portfolio V3!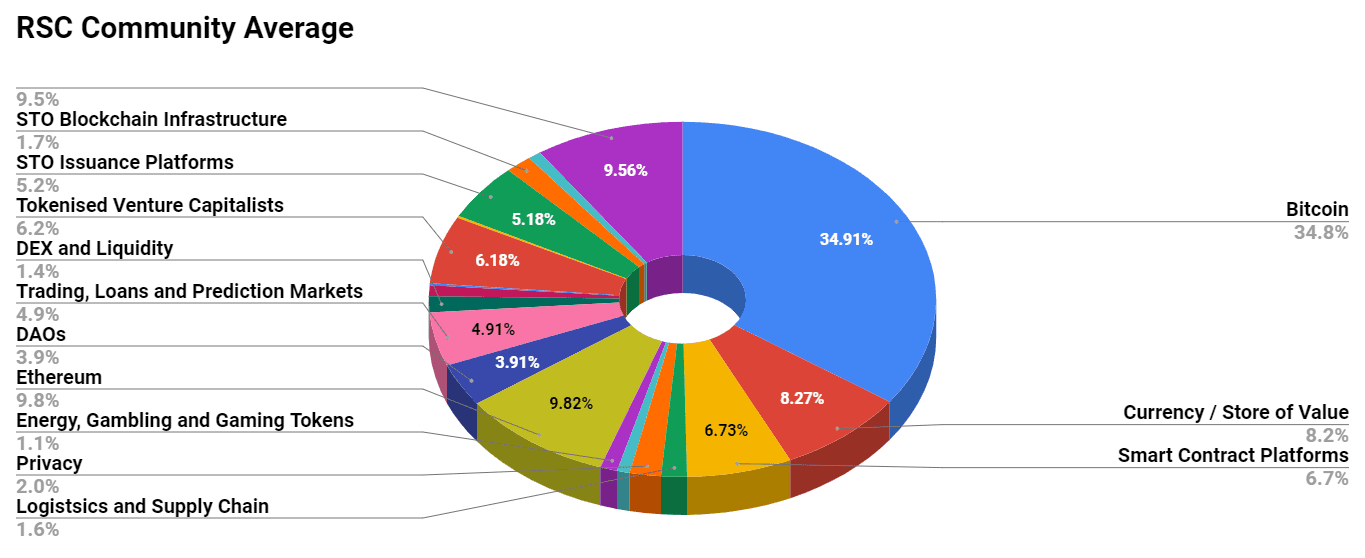 Add your own voice to our portfolio by clicking here.
We intend on this portfolio being balanced between the Three Pillars of the Token Economy & Interchain:
Crypto, STOs, and DeFi projects
We will also make a concerted effort to draw from community involvement and make this portfolio community driven.
Here's our past portfolios for reference: 
RSC Managed Portfolio (V2)
 [visualizer id="84848″] 
RSC Unmanaged Altcoin Portfolio (V2)
 [visualizer id="78512″] 
RSC Managed Portfolio (V1)