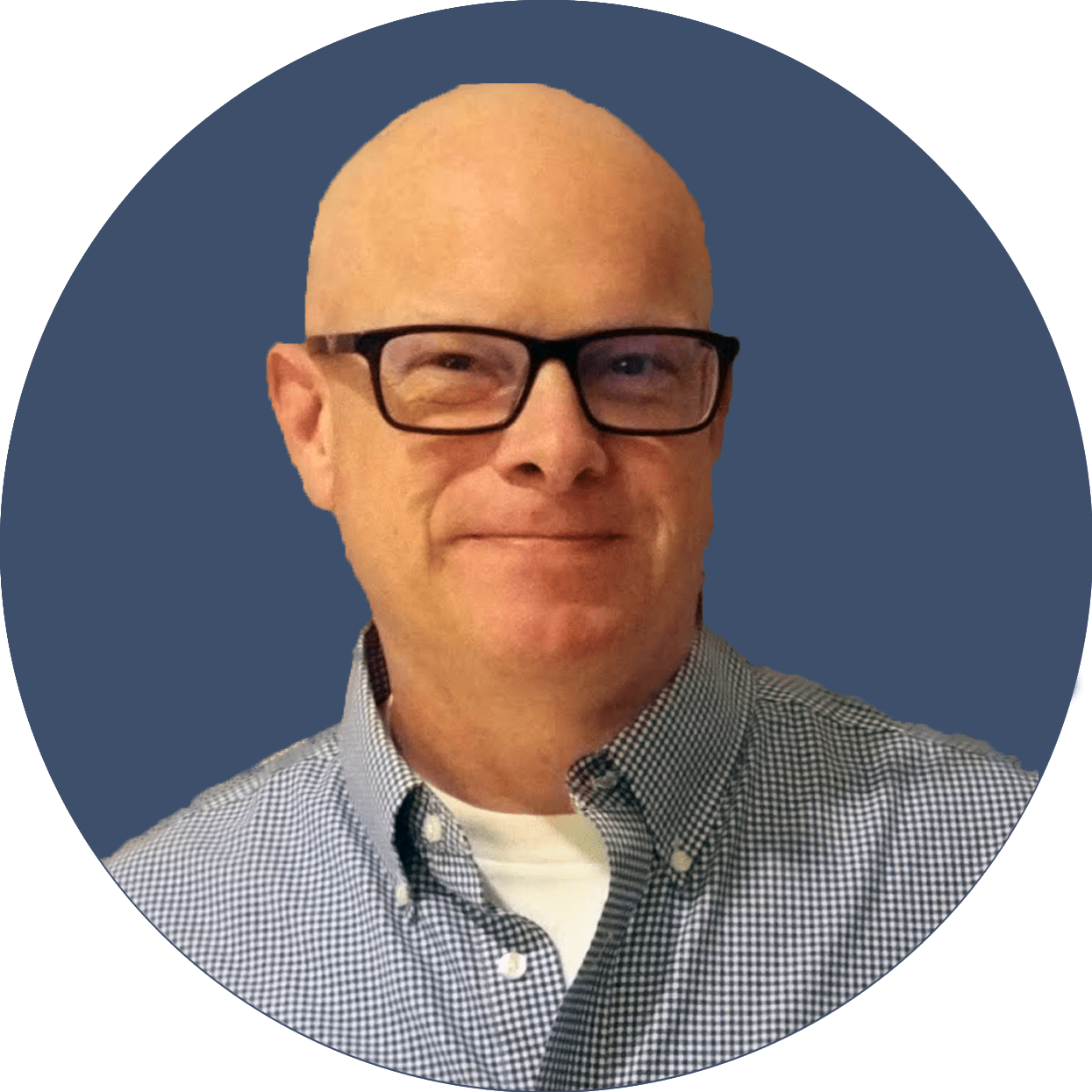 Doc's Daily Commentary and Watchlist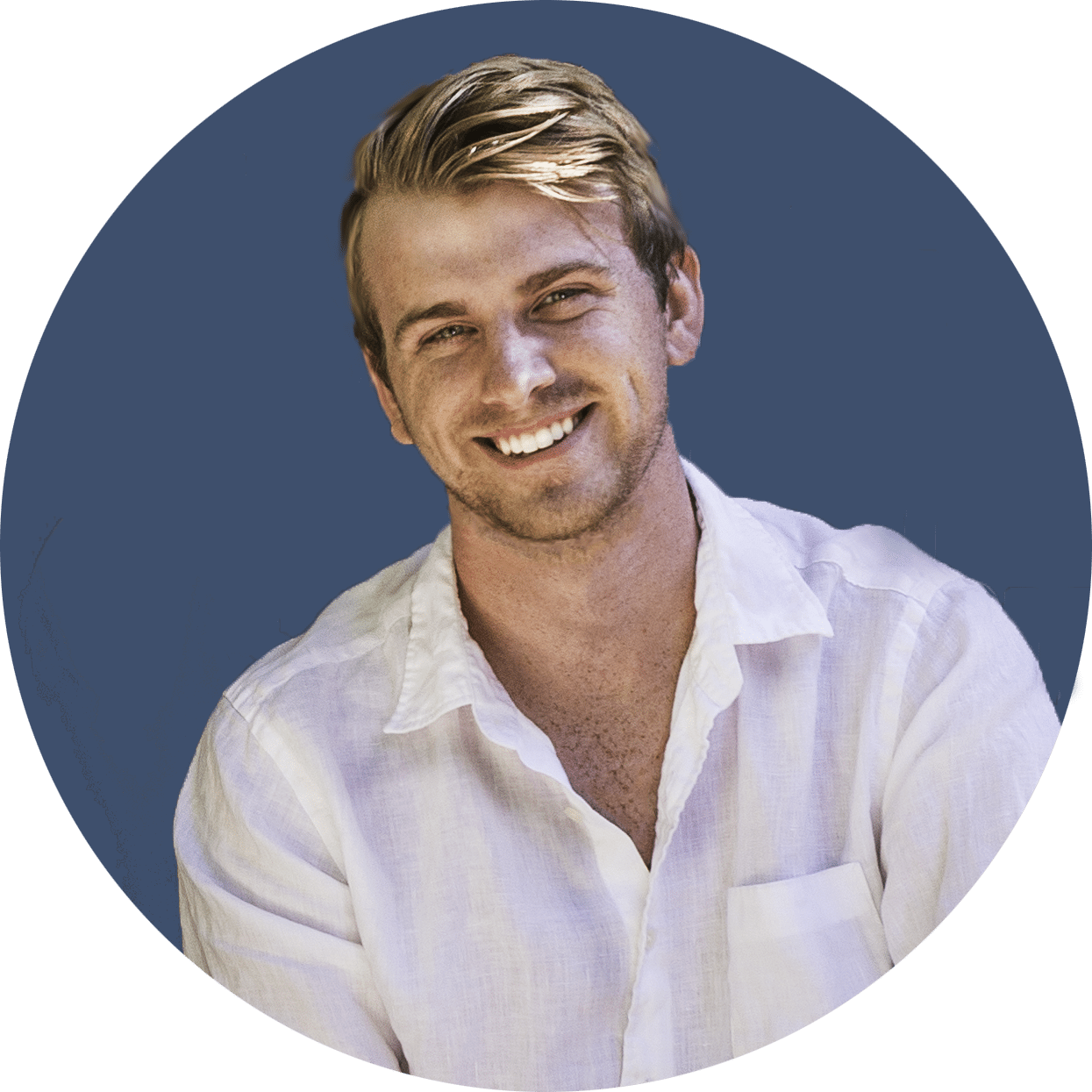 5 Principles To Know When Bitcoin Is Going Bullish Again
Bitcoin is very volatile and choppy this year; how would we ever know when it will start definitively heading higher?
First, let's look at the monthly chart.
When we contextualise Bitcoin's price on the Monthly timeframe, BTC is inside a orange-orange range and has recently rebounded from the Range Low: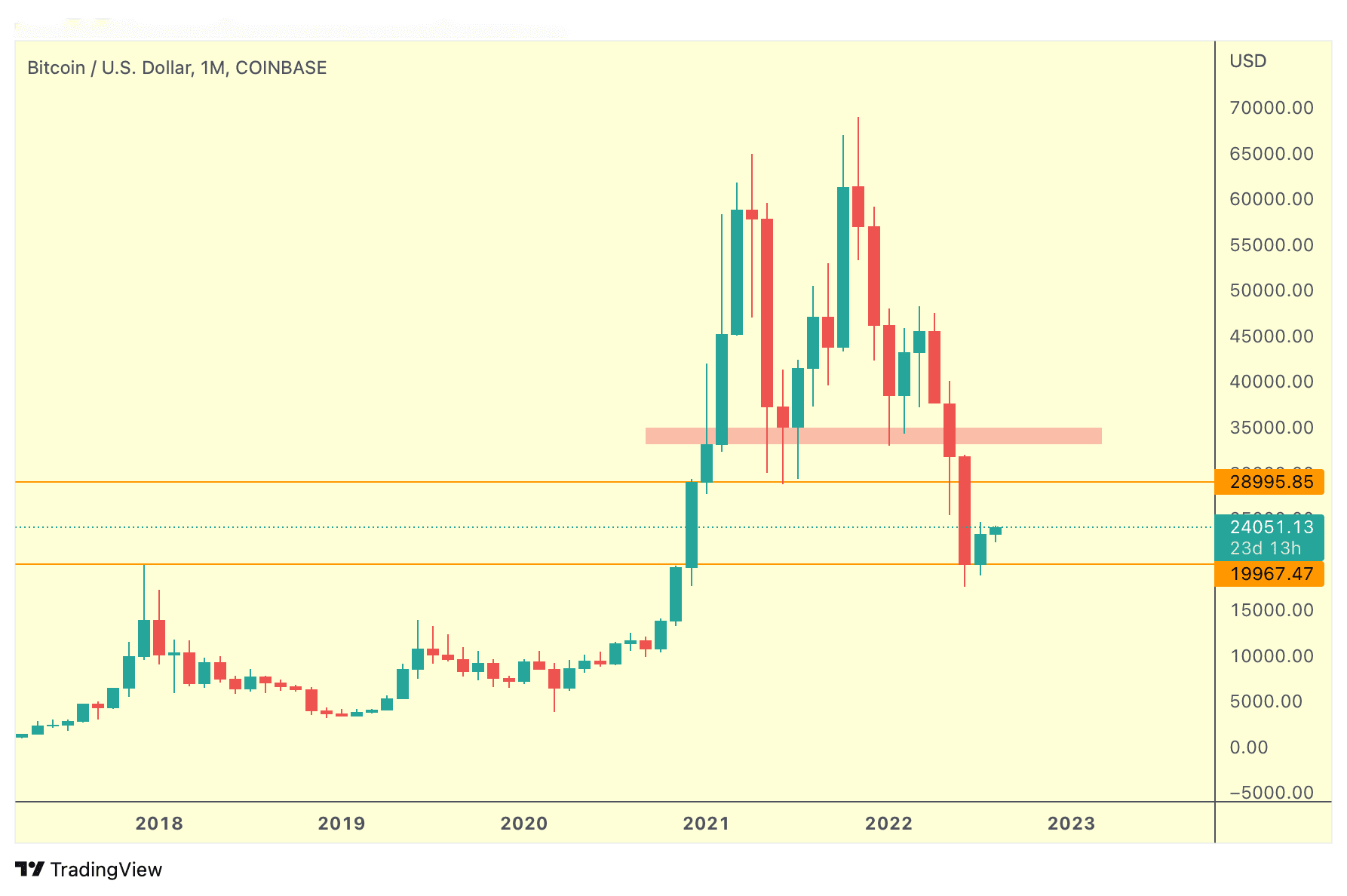 Inside that range is the 200-week MA, which is holding as support:
Last week's Weekly Candle Close means that the retest here was successful and that BTC has seen two week's of back-to-back successful retests of the 200-week MA as support.
There isn't much resistance peppered throughout this orange-orange range.
In fact, a strong immediate resistance will likely be at the ~$29000 Range High which is where BTC experienced strong support; after all, this is the price level BTC would downside wick towards in early 2021 and mid-2021 before generating strong rallies.
So previous bullish reversal levels could figure now as strong resistances.
Which is why the red region of resistance at $35000 is where sell-side pressure will likely be the strongest, given how it once figured as strong support, as evidenced in the Monthly timeframe chart.
What's interesting about $35000 is that this is the price point that approximately denotes the 2-Year Moving Average:
In short, historically anything below the 2YMA has historically been a region that has generated high ROI for investors.
Here's the full chart:
This chart only solidifies the idea that BTC is still in a bottoming period.
In fact, data science suggests that this bottoming period encompasses anything below $35000.
So whatever BTC is doing now, rallying inside a $20000-$29000 range, it's important to not lose sight of the macro picture.
To the macro picture, the $20000-$29000 range is a small detail that won't mean much when BTC finally rallies to the red Moving Average over the coming years to reach the Bull Market top.
BTC is still in the bottoming out process and will be for quite some time.
So to answer the question in the title of today's newsletter, one of the first confirmation signs of a Bull Market, in no particular order of importance is the following:
Principle #1:

Only once it has broken above $35000 to leave the green sub-2YMA area will we have an important confirmation that the trend is shifting.
But there's of course more, because I won't just be watching for one sign of confirmation.
Another lies in the theory of the three macro triangles:
Across time, the black diagonal resistances have formed macro Lower Highs but they have also been vital reference point for macro trend shifts from Bear Market to new Bull Market which is why:
Principle #2:

BTC needs to break this black diagonal resistance to break into a new Bull Market.
Moreover, that black diagonal resistance has been broken a certain period of time prior to the upcoming Halving event in April 2024.
Historically, BTC has broken this diagonal resistance 366-397 days prior to the Halving.
Which would suggest that at the soonest, this diagonal would be broken beyond in March 2023 (i.e. late Quarter 1) or the latest in mid to late Quarter 2.
And so:
#Principle 3:

Bitcoin needs to break the series of Macro Lower Highs approximately 366-397 days prior to the Halving.
Speaking of the Halving, BTC has historically bottomed a certain amount of time before the upcoming Bitcoin Halving: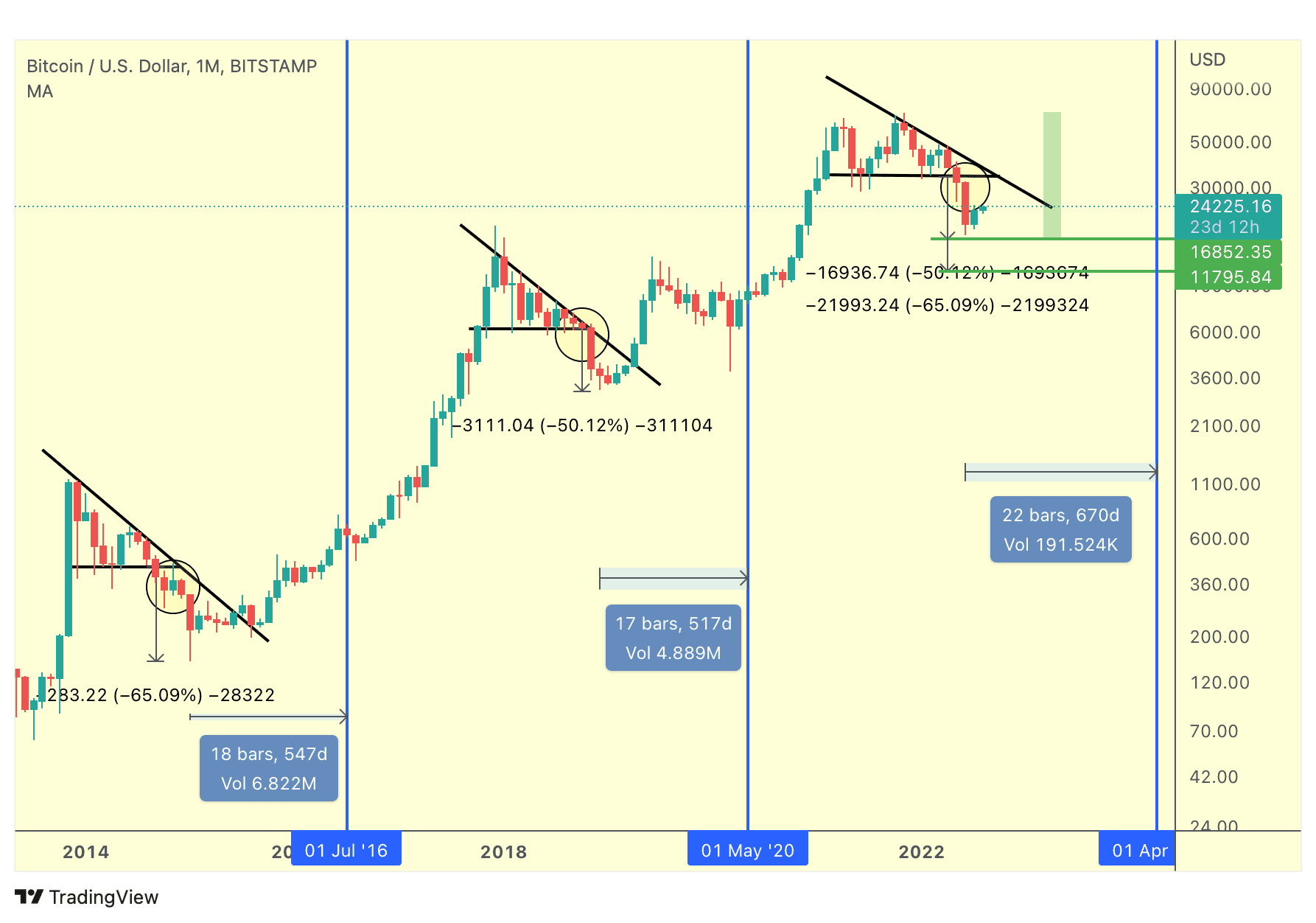 In the past, BTC has bottomed 517-547 days prior to the Halving event.
If BTC had indeed bottomed at ~$17000 this past June, that would mean that BTC bottomed a resounding 670 days prior to the upcoming Halving in April 2024.
Which, by standards of history is at least 3 months ahead of schedule.
If BTC were also to bottom 517-547 days prior to the Halving this time around, the BTC bottom would therefore still not be in and would happen later in Q4 around November time.
#Principle 4:

The generational Bitcoin bottom has historically occurred 517-547 days prior to the upcoming Halving event.

If BTC were to repeat history, a BTC bottom would occur in late Quarter 4, 2023.
And lastly, once Bitcoin has satisfied those aforementioned conditions, it would be worthwhile to look for macro trend continuation.
One of the confirmation signs for macro trend continuation is the 20-month MA:
Historically, losing the 20-month MA as support has preceded further downside in a Bear Market and breaking it as resistance has preceded further upside in a Bull Market.
Right now, the 20-month MA represents the price point of $42000.
#Principle 5:

Bitcoin needs to break the 20-Month MA to confirm macro uptrend continuation in a new Bull Market.
Hopefully these principles help guide you in the uncertain months ahead, and help you spot the next Bitcoin bull market early. Thank you for reading.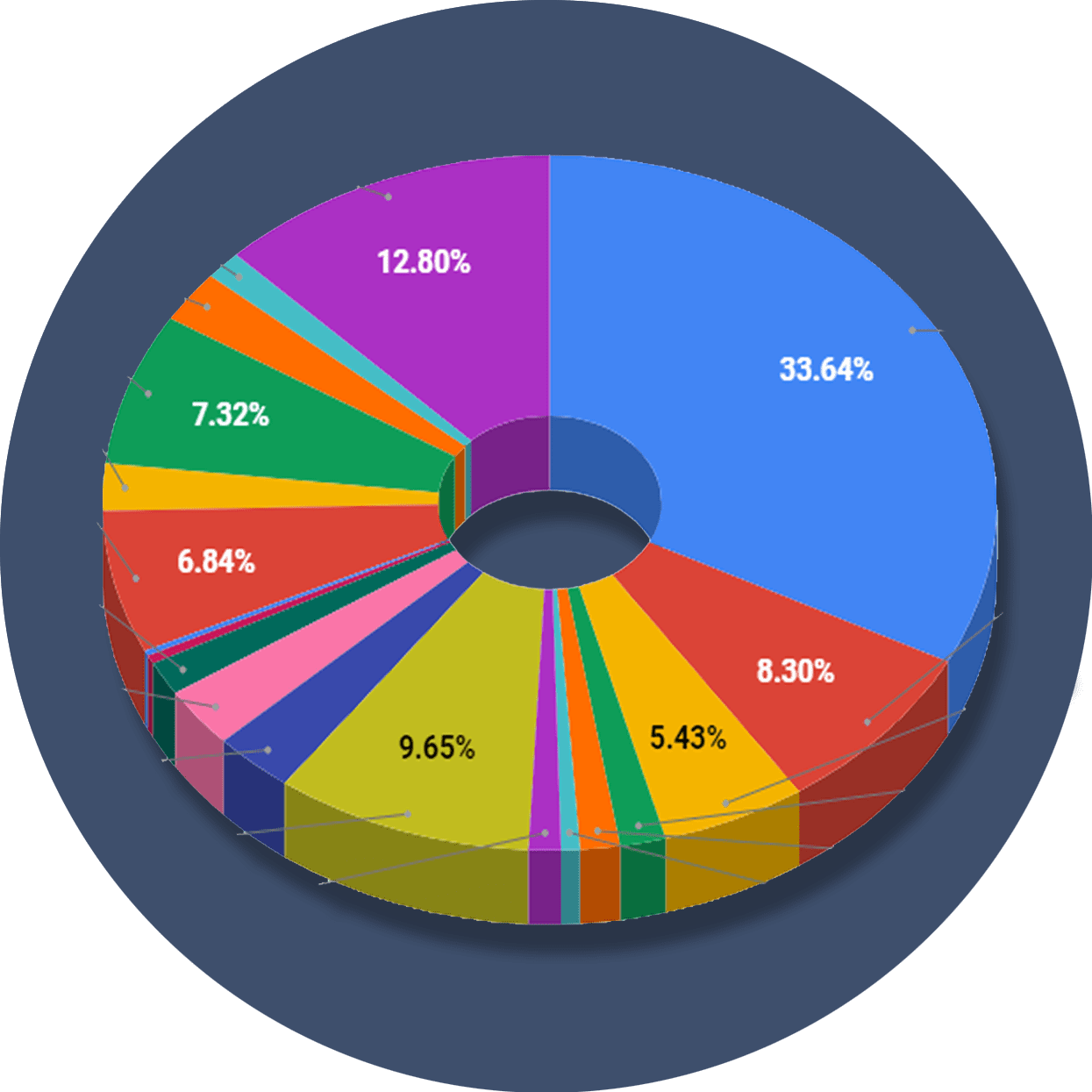 The ReadySetCrypto "Three Token Pillars" Community Portfolio (V3)
What is the goal of this portfolio?
The "Three Token Pillars" portfolio is democratically proportioned between the Three Pillars of the Token Economy & Interchain:
CryptoCurreny – Security Tokens (STO) – Decentralized Finance (DeFi)
With this portfolio, we will identify and take advantage of the opportunities within the Three
Pillars of ReadySetCrypto. We aim to Capitalise on the collective knowledge and experience of the RSC
community & build model portfolios containing the premier companies and projects
in the industry and manage risk allocation suitable for as many people as
possible.
The Second Phase of the RSC Community Portfolio V3 was to give us a general idea of the weightings people desire in each of the three pillars and also member's risk tolerance. The Third Phase of the RSC Community Portfolio V3 has us closing in on a finalized portfolio allocation before we consolidated onto the highest quality projects.
Our Current Allocation As Of Phase Three:

Move Your Mouse Over Charts Below For More Information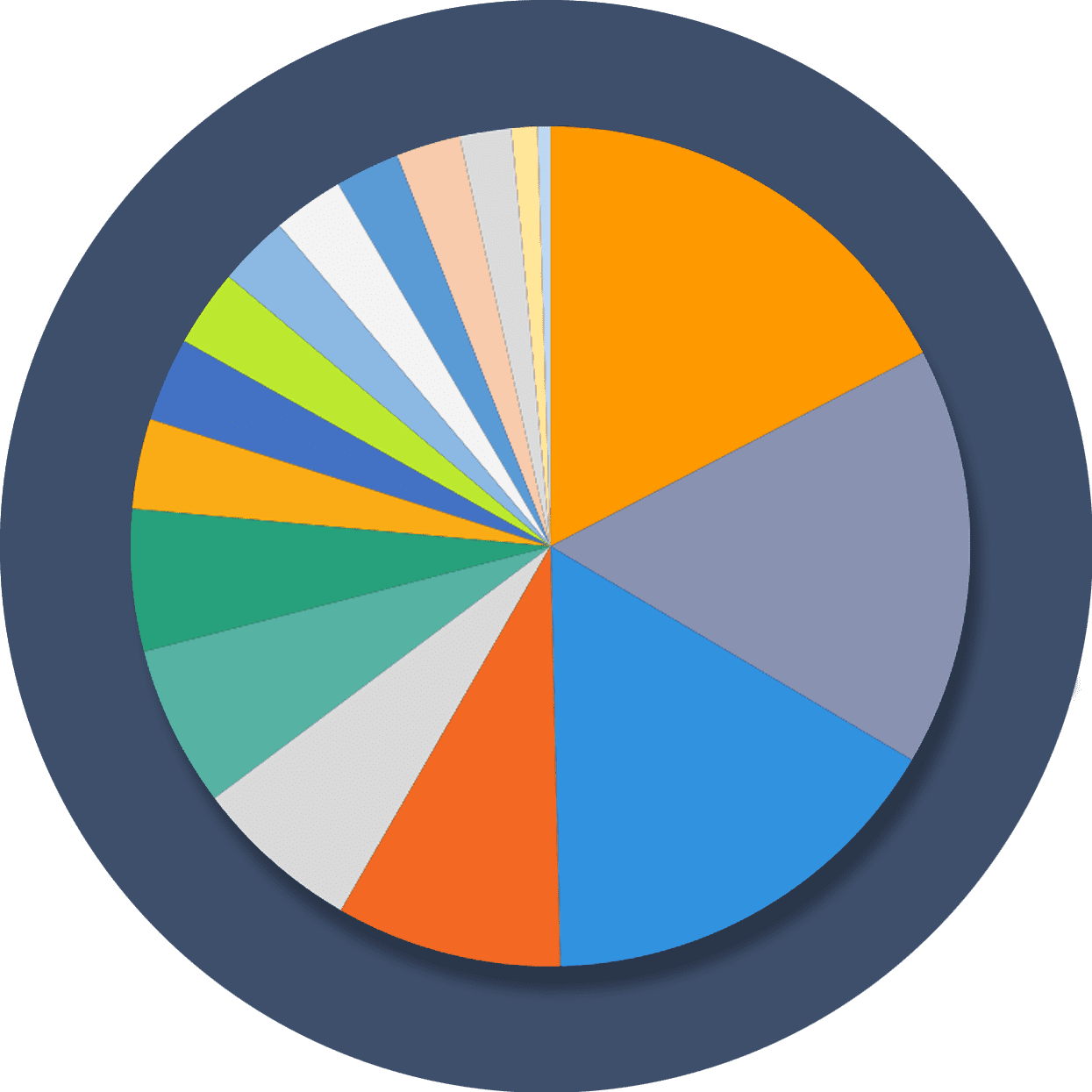 The ReadySetCrypto "Top Ten Crypto" Community Portfolio (V4)
What is the goal of this portfolio?
Current Top 10 Rankings: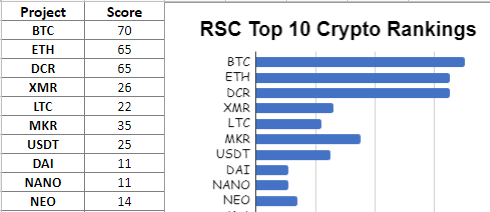 Move Your Mouse Over Charts Below For More Information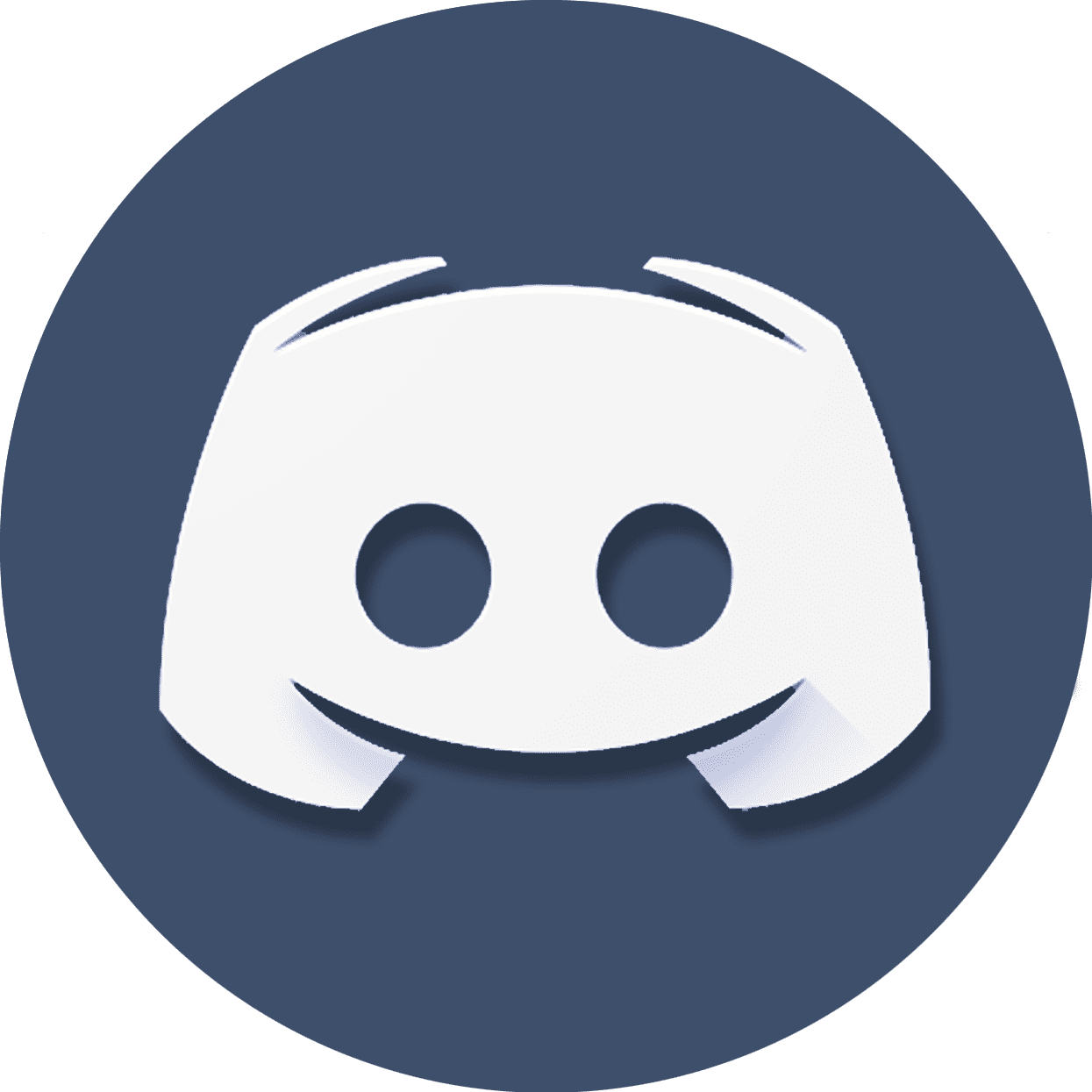 Our Discord
Join Our Crypto Trader & Investor Chatrooms by clicking here!
Please DM us with your email address if you are a full OMNIA member and want to be given full Discord privileges.