Premium Daily Crypto Newsletter
December 5, 2018
Watch this video to see how to use this newsletter. Click the square in the lower right to expand the view.
Check Out Doc's Trading Book
Have You Read Our Free Ebook?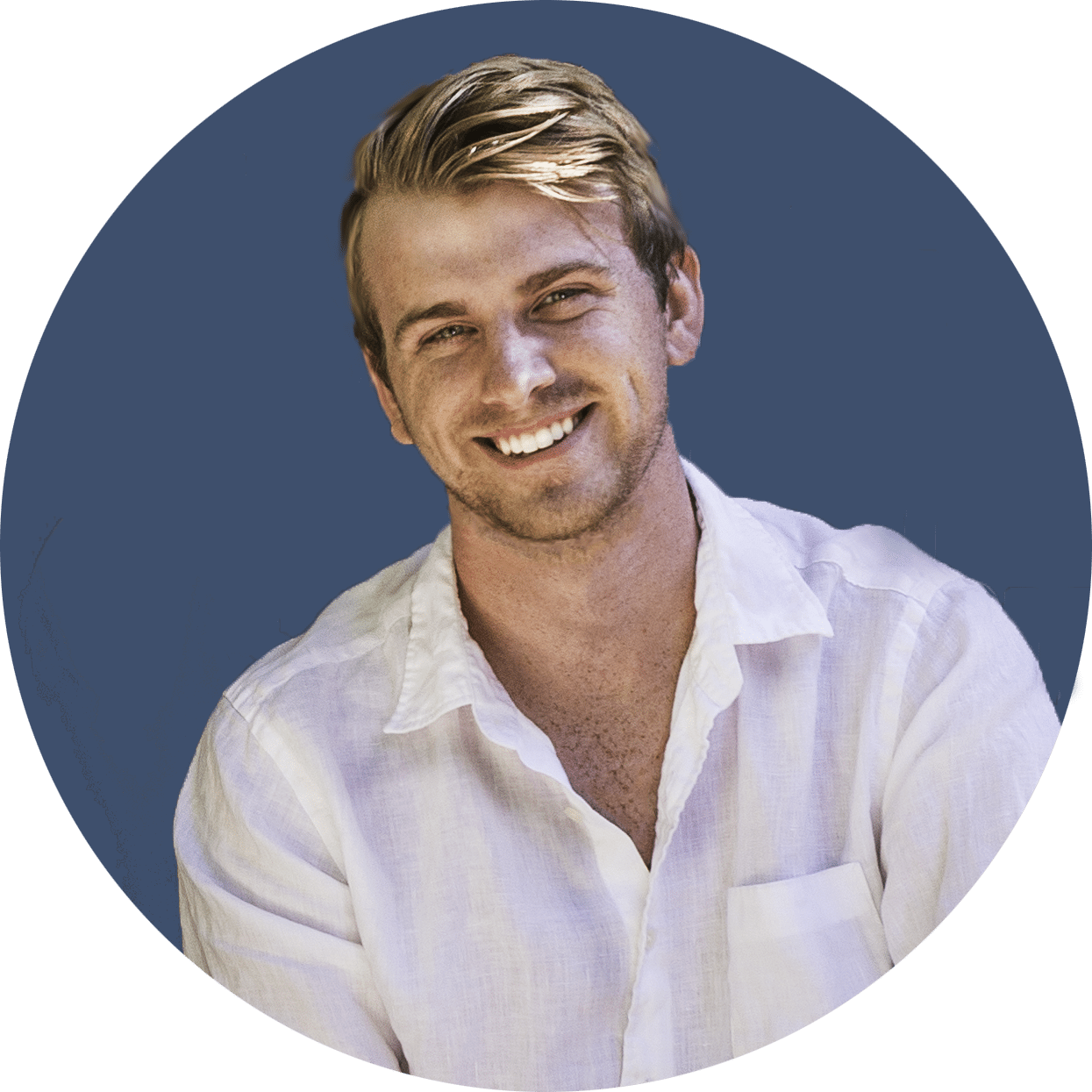 Markets Continue Slow Descent
Boring Market Still Confirmed
As I've started to really push the Security Token narrative, I'm slowly discovering a nascent battle of wills going on.

It stems from an "us vs. them" mentality and ultimately I think Security Tokens are being given an unfair lens because of it.
That battle is over the perception that STOs, Security Token Offerings, will only be the playground of the rich and the common folk will have to beg for scraps, having to accept a price premium on the publicly traded tokens.
Here's the thing: US Accredited Investor Laws (and similar laws around the world) purposefully limit the investing opportunities of those without a net worth exceeding one million, or an annual income of $200,000+.
The line of thinking is that in order for an individual to invest in securities, they must have the capital to risk. The criticism argues that other activities, such as driving or giving financial advice, require a license or a certification, the only thing you need to invest with VC status, as an angel investor, or participate in offerings like a Reg D 506(c) is have a seven figure bank account.
That's frustrating, right?
After all, you can go to a casino and gambling your money away to nothing regardless of your wealth. You don't need some special status to go hundreds of thousands in debt acquiring a useless degree. You certainly didn't need anyone's permission to watch your 401(k) be lit on fire during the 2008 recession.
So what's the deal? Why lock us out of potentially lucrative investments?
Well, for one, we just saw the best example in recent memory.
ICOs disrupted the accredited investor model in a big way. It was a game changer. But, as we've seen, it caused harm to many people out there, a majority of which had never invested before.
High risk investments are just that. People were easily manipulated by promises of lamborghinis and yachts. The dream of an overnight millionaire. You might be one of them.
So, the SEC exists to protect us against ourselves with regard to securities. I know, it may seem like big government and an overreach and a violation of our civil liberties, but the fact of the matter is that the protection goes both ways.
If companies were openly allowed to advertise and scam investors like we saw in the ICO bubble, throughout the whole economy, we'd have chaos in the streets.
The fact of the matter is, maybe you and I are smarter than the average investor, but the protections are in place for the average investor.
After all, the accredited investor status is, by definition, an exemption.
In different words, the SEC's purpose is to protect the everyday investor, so by allowing the accredited investor exemption they at least create a sufficient and protective layer between potentially complex investment securities and the general investing public.
And think about it. It's not a complex loophole. You have a million bucks, you get to play in the big leagues. The loophole is there if you want it bad enough.
All that being said, my personal position on this matter is that I agree the exemption does create a broken system where people who able to achieve this status take advantage of those who can't.
It's a fine balance to strike, and I think STOs will force the SEC to reexamine this exemption. They've already indicated they are considering lowering the barrier to entry.  
Meanwhile, if you're not able to have a windfall of $1 Million (wouldn't that be nice), you are still full capable of investing in and profiting from STOs.
Let's walk through the SEC exemption types so you better understand what I mean.
Reg D 506(c) – US Accredited
Reg D 506(b) – US non-accredited up to 35 investors, must have pre-existing relationship
Reg S – Outside US, no wealth restrictions
Reg CF – US non-accredited up to $1,070,000 total raised
Reg A+ – $50 million from both accredited and non-accredited investors
Do you notice something? The only exception that is specific to accredited investors is the Reg D 506(c).
Issuers looking to offer their STO do not have to specifically target accredited investors, though it is the exemption with the least restrictions regarding amount and number of investors.
Adding to that, there are a number of projects building STO platforms and exchanges that you can invest in using their token.
Here's a short list:
Ravencoin – like Bitcoin, but for transferring assets rather than currency. No ICO, no pre-mine, no CEO, and ASIC resistance.

Harbor – All-in-one platform for tokenizing private investments. ERC-20-compatible and regulatory-compliant token standard, the R-Token Standard.
Swarm (SWM) – STO launch platform. Masternode program.
Own (CHX) – A platform to buy and sell shares. Masternode program.

OpenFinance Network – a regulatory-compliant platform for trading security tokens. Partnered with Harbor, Polymath, Swarm, and many others in the security token space.
Coinlist – a platform focused on regulatory compliant token sales
Preflogic – Platform for launching STOs. Ready to go to market with STO wizard and CERC token standard. Currently offering Reg S through invest.preflogic.com. Possible Reg CF in the future.
So you can see, there's a ton a opportunities already cropping up. I refuse to let simple FUD stand in the way of massive potential, and I think people need to wake up to this giant shift in this space and the finance industry overall.
A new episode of the ReadySetCrypto Podcast has been published; all of our episodes are posted on our blog (and on iTunes) and Episode Fifteen is now available. Episode Fifteen is entitled "2019 Will Be the Year of the Crypto Derivative."  Look for more episodes shortly as we comb the crypto space for valuable interviews, and create valuable content to keep you in the loop! See you tomorrow!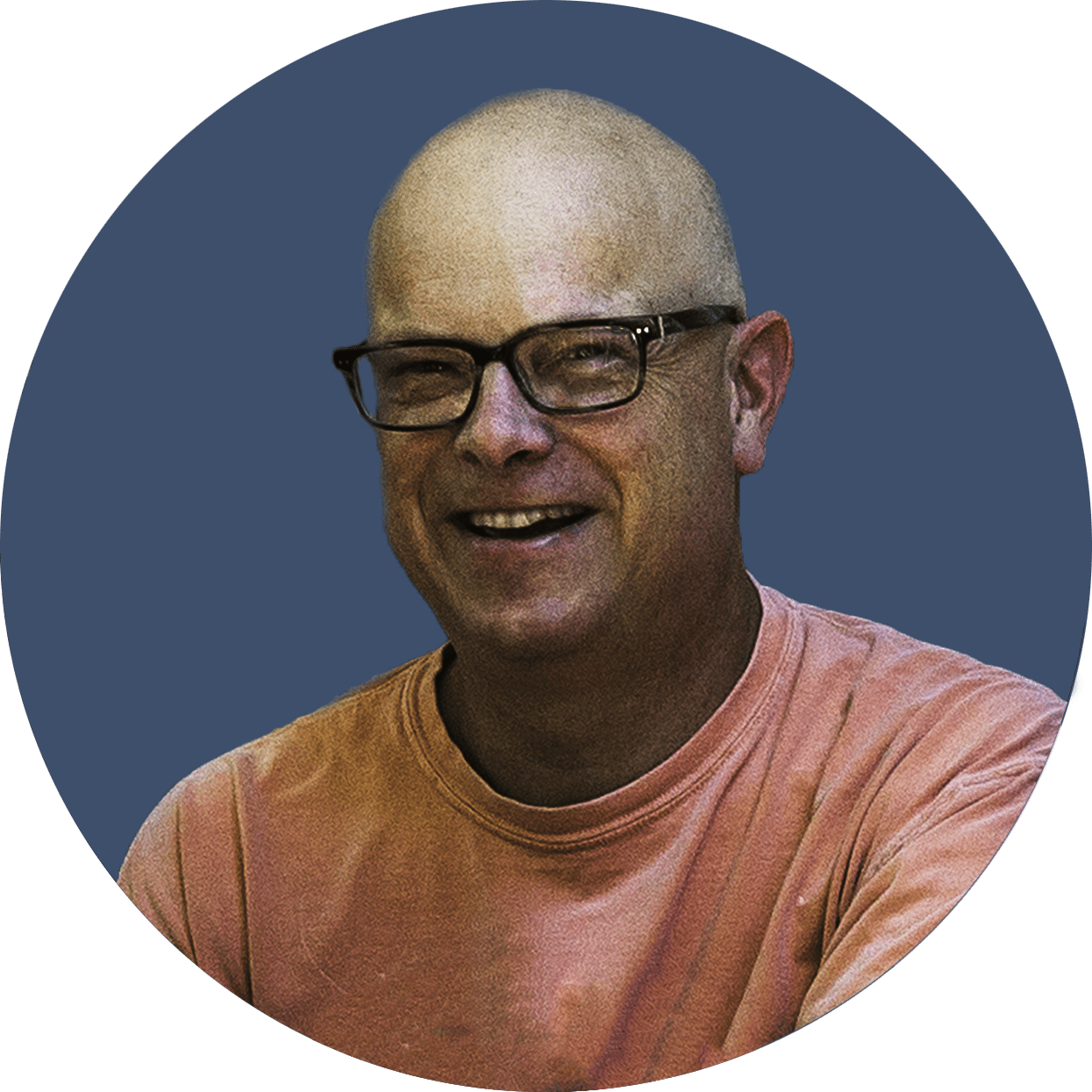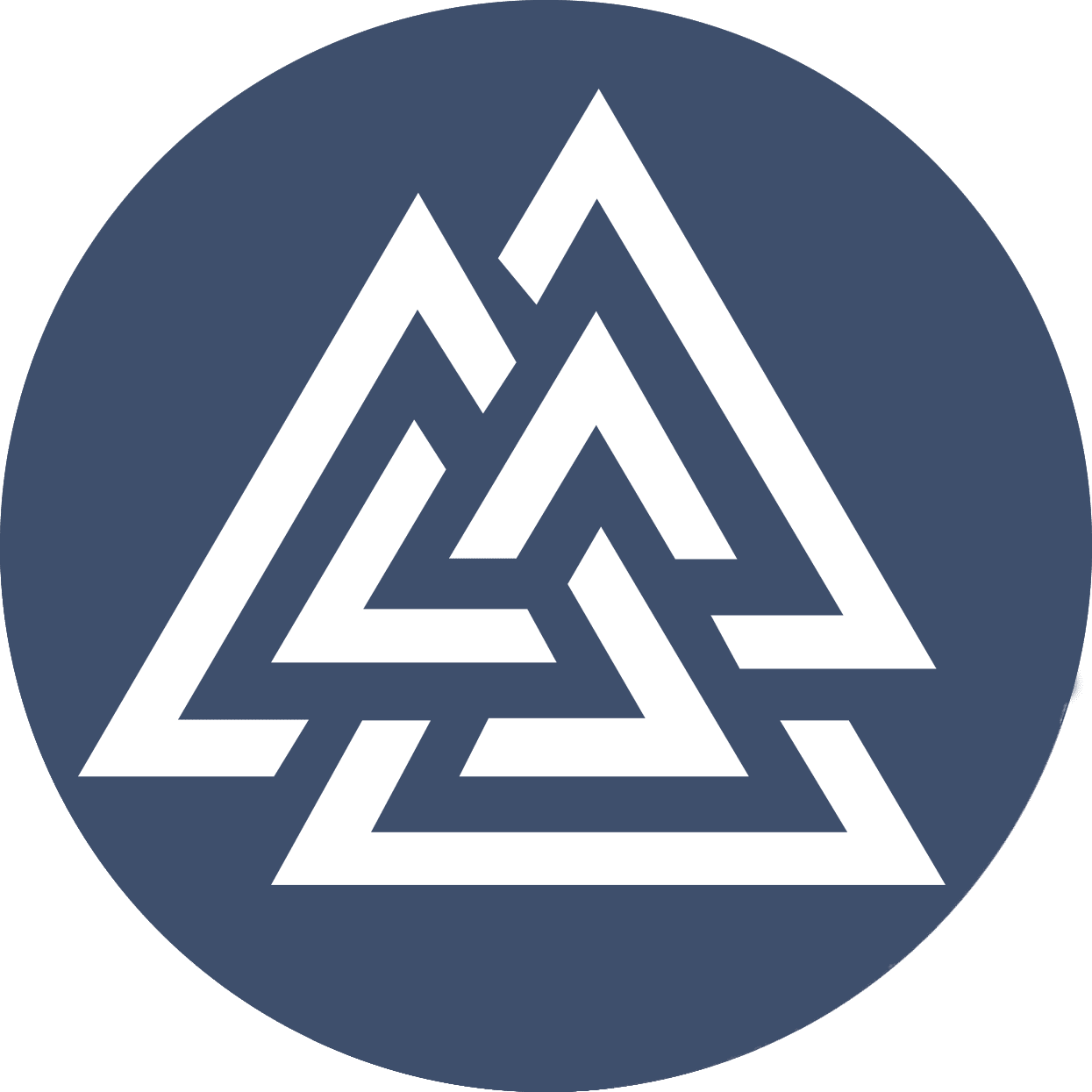 Our Weekly Premium-Only Livestream
Our next ReadySetLive session will be Wednesday next week; watch for the link to be published below, and in our Discord channel. Doc's latest down-voted "Trade School" video is also listed below; we announce those with links in the Premium Chat room of the Discord page.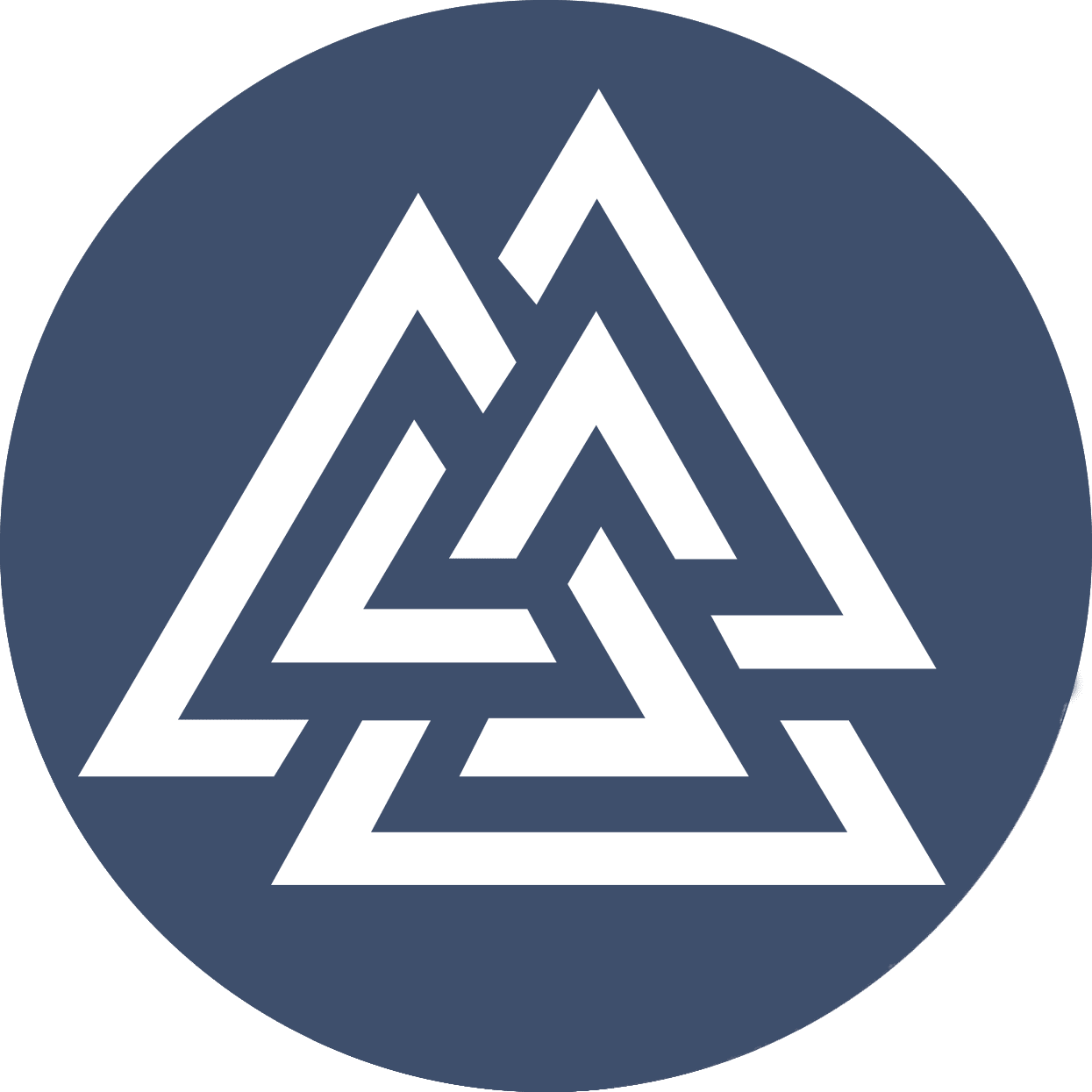 New to Cryptocurrencies? Check out our archived classes "Intro to Cryptocurrency Trading", "How to Find Your Next Big Cryptocurrency: Intro to Fundamental Analysis," Mav's  class on "Security and Wallets" and Doc's classes, "Introduction to Technical Analysis" and "Short Term Trading Strategies" which are now all available for immediate purchase in our Store, and seconds away from viewing in the Premium Member's Home. View more about them at our online store by CLICKING HERE.
If you go to buy any of our courses at our online "store" you can receive $10 off the street price with your member's "coupon code" of member18crypto
Check out our new merch store! Simply go into the regular store and select "Merchandise" to pick up some RSC merch!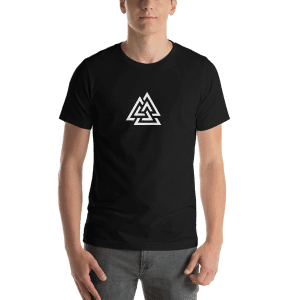 Offensive Actions for the next trading day: 
Looking for a TRX/BTC entry above 392 sats.   
Defensive Actions for the next trading day: 
How to read this portfolio: Please read through the FAQ tab
ETH/USD 2% added 8/10/2018 @ $363.14
ETH/USD 2% added 9/9/2018 @ $200.50 (10% more to add)
LTC/USD 2% added 8/10/2018 @ $62.56. (5% more to add)
XMR/BTC 2% added 9/21/2018 @ .018BTC
BTC/USD 2% added 11/7/2018 @ $6501
XLM/BTC 2% added 11/19/2018 @.00004389BTC
XEM/BTC 2% added 11/27/2018 @.00001901BTC
What is the RSC Managed Cryptocurrency Fund?: We have one goal: To beat the market. To do this, we aim to balance risk vs. reward. Additionally, we aim to enter positions advantageously and in small increments, not all at once. As such, the pie chart you see above is representative of our "expected" portfolio, but will likely not match our "actual" portfolio. Why don't you just buy into every position at once?: We aim to not only beat the market, but do so in a way that allows us greater leverage than simply buying in all at once. To do this, we will DCA into our positions to lower the average buy-in, and allow us greater yield from our initial capital seed. This also allows you the flexibility to follow our documented moves or immediately buy in when you want. We expect this will help you follow along easier as our moves are more deliberate. By setting targets for allocation, you know exactly how we intend to diversify our portfolio. Why are you only targeting large caps? Where is ____ coin?: We are targeting large market capitalization coins regardless of our belief in their viability as this enables us to diversify our risk and improve our chances of staying positive. We can hedge our bets by creating a fund that incorporates all of the major assets yet distinguishes between them based on the allocation. For example, we allocated more to Ethereum over its competitors as we feel it has more built-in longevity given its status as the default ICO platform. Of course, that can change, and as such we will be periodically rebalancing this fund as we redetermine viability and yield. Can I invest in this fund / can you manage my funds?: Not at this time. We are looking for ways to legally tokenize a fund such as this, but at this time no avenue exists for US citizens. Will we be adding small caps / ICOs?: It is likely we will be starting a separate fund dedicated solely to small caps / ICOs. We feel that the market simply isn't showing favorable risk / reward signs for us to be trading them right now, but that will likely change soon. Why was the previous portfolio discontinued?: We felt it wasn't correctly connecting with our customers as we started it in late 2017 and even during the 2018 bear market we were still very profitable. The same could not be said for customers who joined us during the bear market and tried to replicate our portfolio. Simply put: we wanted a portfolio that was easier to follow along with and less risky for our customers while still aiming for profitability.
RSC Altcoin-Exclusive Crypto Fund
What is this? The RSC Altcoin Fund is meant to replace our V1 portfolio. This portfolio, referred to as Portfolio V3, will represent a portfolio that is built upon more risky assets (assets outside the top 20), and is inherently more risky than Portfolio V2, the RSC Managed Crypto Fund (above). We will NOT be actively entering positions for this fund, but we will be updating the portfolio percentages and contents periodically.
Technical Analysis Research
More than likely we're seeing the formation of an intermediate bear flag in the major coins; even though the energy is there to see it break lower in the short-term, I don't think we'll see it release just yet because the Weekly energy is in exhaustion. We should expect at least a couple of weeks of chop in the interim. Some coins are really starting to find traction off the bottom after building big bases; FCT is obviously one, however TRX is starting to look good now.
In August we introduced a new "fund" project that we'll be creating over the next few months, in piecemeal form. I will be slowly and methodically creating a "fund" with (currently) 23 assets that we will do "live" or at least very plainly indicate where we intend to enter portions of assets. As long as the market continues grinding down in a bear, we will use sentiment-based entries to hopefully secure a better entry. All that I saw were bear flags tonight; we are close to some good entries on coins showing positive divergence on the RSI.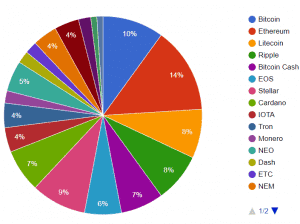 Going forward into the end of this year my plan is to do a LOT more swing trading; what would really help is a decent derivatives exchange. I am looking for big things from Digitex in this regard, which will be a commission-free futures platform however all trades must be made in DGTX as the base currency. Put yourself on the waitlist for this platform by clicking here. I have started to acquire DGTX tokens at Mercatox in anticipation of them turning up their platform, and this looks to be a good candidate for a pump prior to the production event. Here are the recent swings that we're tracking in the portfolio below; :
DGB/BTC – long @ .00000608 (7/23). My target exit is .000008BTC.
WTC/BTC – Long @ .00155980BTC (4/23). My target exit is at .002BTC.
ADA/BTC – Long @ .00003931BTC (5/1) My target exit is at .00005BTC.
ONT/BTC – long @ .0008905 (5/20) My target is .0013BTC.
ETP/BTC – long @ .000522BTC (9/21) My target is .00072BTC
Please keep in mind that if you want to follow these trades, I am using FIXED RISK POSITION SIZING. This means that I am using a fixed amount of risk capital that is based on my account size, like 2%. I am assuming that the trade will burn to the ground and that I will lose that entire capital position! Only in this manner can one effectively manage a position the way that you have to. If you've every checked your blockfolio nervously every 5 minutes when you're underwater, this will prevent that. I will track these positions in this area and not in the main portfolio section. I will use a public portfolio tool to do so, which you can access by clicking below:
I hope you all got a chance to catch my webinar class from earlier this year; if not, the replay is available here. If you missed my earlier webinar, "More Profits in 2018; Ten Ways to Chart Like a Pro." then you can catch the replay here. My new class "Introduction to Technical Analysis" is now available via our online store.
If you go to buy any of our courses at our online "store" you can receive $10 off the street price with your member's "coupon code" of member18crypto..
We've started to do some swing trades on alts, tracked in the previous section. I am mostly focusing on the top 10-20 coins for now until we confirm that we're back into an overall bull market.
I am doing the majority of my Technical Analysis work on TradingView, and I have a BitFinex app on both my iPad and Android smartphone. All of these charting platforms call a TradingView API. TradingView is the 800 lb. gorilla in the Crypto charting space until the "established" players want to make a go at Crypto, like Ninjatrader, Tradestation, eSignal, Sierra charts, etc. My sense is that TradingView has such a head start that it will be very difficult for the big boys to make a dent in this space for a while. Until that point, TradingView has almost a monopoly in this space. If you have a particular tool that you think is superior, please let me know. You can access the BitFinex and TradingView platforms for free, however there are some paid features that you might want to consider depending on your needs, such as expanded watchlists, different study sets, account alerts, etc.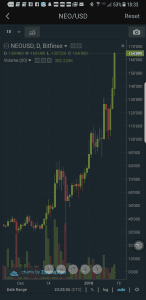 Coinigy is a great tool for determining prices on each exchange, however I may not have access to the full suite of tools on TradingView charts. I am currently not using it as a front-end GUI for my exchanges, which it supports.I also use Blockfolio and/or Delta to give me a quick snapshot of my holdings, and find that it does an excellent job to aggregate all of my holdings into one easy-to-read snapshot of my cryptocurrencies, which are typically located in many different places.
I am also trialing the Profit Trailer and CryptoHopper trading apps which are working well in this choppy market.
Fundamental Currency Research
We'll focus in-depth on a coin you should consider, and talk about the fundamentals of what makes it interesting. This is not a " this is the next big crypto" article or "reasons why you should buy". We're simply laying it down with hype, speculation, and other nonsense.
Today's RSC Coin Spotlight is the 0x Protocol (ZRX):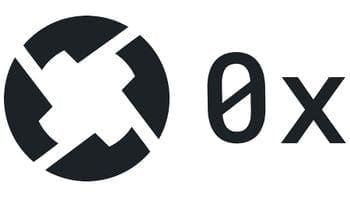 No doubt you've heard about ZRX in the past several weeks since its listing on Coinbase on October 11, 2018. But you may be asking yourself: What is ZRX? And What gives it value?
ZRX is the governance token of the 0x Protocol, a standard for trustlessly trading ERC20 and ERC721 tokens. 0x Protocol allows users to trade tokens right from their wallets in either OTC trades or through a decentralized exchange otherwise known as a relayer.
0x protocol uses an approach they refer to as off-chain order relay with on-chain settlement. In this approach, cryptographically signed orders are broadcast off of the blockchain through any arbitrary communication channel an interested counterparty may fill the order by submitting one or more of these signed orders into 0x protocol's Exchange contract to execute and settle trades directly to the blockchain.
The project ICO'd in August 2017 for $24,000,000. On August 2, 2017, iFinex Inc. (BVI), the company that owns Bitfinex, announced it would launch Ethfinex, an Ethereum-based trading and discussion platform that would utilize the 0x Protocol. Several other prominent relayers rose in the 0x ecosystem such as DDEX, Radar Relay, and Paradex.

On May 23rd, Coinbase announced it had acquired Paradex, a decentralized exchange that uses 0x. At the time of the Paradex acquisition, Cointelegraph reported,  
"Coinbase will integrate the Paradex relay platform into Coinbase Pro which, according their blog post, will let customers trade 'hundreds of tokens directly from their wallets.' This would markedly expand the types of cryptocurrencies to which customers will have access through Coinbase. The blog post states that the new service will be made available to customers outside the US before eventually being offered to American clients."
This acquisition led many in the crypto community to speculate that Coinbase would list ZRX and sure enough it was listed on Coinbase on October 11, 2018. The ZRX community eagerly awaits Coinbase Pro "Trustless" which could see the listing of many ERC20 tokens.  Coinbase's recent announcement of USDC, an ERC20 backed by USD, may be used in trading pairs on Coinbase's new trustless service.
https://cointelegraph.com/news/coinbase-announces-launch-of-coinbase-pro-paradex-acquisition
https://blog.0xproject.com/18-ideas-for-0x-relayers-in-2018-80a1498b955f
0x protocol relayers have a lot of flexibility on how they collect and relay the orders they interact with. Relayers can choose whether to have open or closed liquidity pools. Relayers can be private or open.
They can even be dark relayers which allows big players to transact outside of the eyes of the public by obfuscating their orderbooks and provide just-in-time quotes for crypto assets to emulate the experience of using a dark liquidity pool.
But 0x goes far beyond decentralized exchanges. The liquidity pools that relayers create can be beneficial to any number of projects in the Ethereum ecosystem. 0x allows developers a flexible approach to offering their users liquidity for their tokens.
Any DApp looking to accept multiple tokens as payment methods could tap into 0x's orderbooks for the liquidity to convert the payment into the token of their choice.
For example, Since 0x can handle ERC721 tokens, two players of the ERC721-based card game Gods Unchained can trade cards with one another. Gods Unchained is going to utilize 0x to create an in-app exchange where players can trustlessly trade ERC721 cards with one another.  https://godsunchained.com/
Developers see the value in a protocol like 0x and several major projects in the Ethereum ecosystem are integrating the 0x protocol as a vital function of their code.
District0x (DNT) is one of these projects. According to their website, District0x is a network of decentralized markets and communities known as districts that solves a number of coordination issues and inefficiencies commonly found within distributed community marketplaces.
This is accomplished by providing tools that can better align incentives and decision making among the market participants themselves.
The end goal is to create a self sustaining ecosystem that can flourish without the need for a central authority. Districts exist on top of a modular framework of Ethereum smart contracts and frontend libraries referred to as d0xINFRA.
https://district0x.io/
District0x embedded their 0xprotocol into their districts on the district0x Network, giving users the ability to pay and receive payment in the ERC20 or ERC721 token of their choice.
Simlar to the ZRX token, DNT is used to govern District0x. As their FAQ puts it:
"The district0x token holders themselves decide whether a district is good or bad for the network through the District Registry, an incentivized voting game that dictates access to the network. Whether a district is good or bad not only applies in terms of the quality of the marketplace, but also prevents against districts that are deemed immoral or threatening to the entire network by DNT holders. This will be entirely up to the DNT token holders to decide."
https://district0x.io/faq/
Like many people you may be asking yourself: "Where is the value in governing these protocols? Where is my money?" These are valid questions that honestly no one has the answer to yet. Like many aspects of crypto, these investments are speculatory.
One concern many have raised in the ZRX community is: What stops someone from forking the 0xprotocol in the case of a dispute? While it is true that a relayer who wanted to could fork away from the rest of the 0xprotocol but they would also suffer the consequences of disconnecting from everyone else in that pool of liquidity.
Similar arguments have been made for open-source software in the past and it usually boils down to the same concept that gives these open-source projects value: network effect. It's hard to copy and paste Ethereum because it is the Ethereum network that has value not strictly the technology.
0xprotocol can be viewed in a similar light. Yes, you could fork the protocol but the value in ZRX is the network of users and application built on top of the protocol itself. District0x and relayers are a prime example of this. Any project that tried to duplicate ZRX would need to attract all of the protocol network's users as well.
As the cryptocurrency space keeps evolving, we're going to see users and developers take the path of least resistance. Why make my own operating system when I can use one someone else wrote? Why make my own network protocol for computers when I can use TCP/IP to connect to the internet?
Why make my own cryptocurrency network when I can build on Ethereum or Stellar? This line thinking logically progresses into: Why make my own liquidity when I can tap into a network like ZRX? Why make my own marketplace when I can use District0x?
This interweaving of utility protocols is going to create a strong fabric for ecommerce in the age of Web 3.0. Just like ZRX, District0x benefits from developers building off of their framework. These developers must place a refundable deposit of DNT to become a district creating a symbiotic relationship.
District0x provides a standard framework for any marketplace system with a reputation like Ebay or even Amazon.

One example of the districts on the District0x network is the RedLightDistrict created in partnership with Spankchain. They sell, as you might have guessed, adult content from performers on Spankchain's network. District0x's framework provides the RedLightDistrict with the ability to have buyer and seller reputations, an issue interface for performers to sell digital content, and seamless payments via the ZRX protocol.
https://github.com/district0x/district-proposals/issues/197
The decentralized finance ecosystem grows with each new strand woven into its fabric; We are seeing more and more Dapps in the Ethereum space being built on top of or interwoven with other Dapps or protocols.  District0x is just one of the threads interwoven with ZRX.
dYdX protocol is building another important product that integrates with ZRX relayers. dYdX is a protocol for short selling and derivatives built on the Ethereum blockchain. dYdX provides decentralized peer-to-peer shorting, lending, and options trading of any Ethereum based token. dYdX allows decentralized exchanges to offer sophisicated financial tools similar to centralized exchanges but in a completely trustless way. https://medium.com/dydxderivatives/introducing-dydx-2d0f0f326fd
Dharma protocol is another great example. Dharma is a protocol for issuing, underwriting, and administering debt agreements as tradeable cryptographic tokens built on top of, you guessed it, the 0x protocol. https://dharma.io/
Overall, 0x is certainly a project doing big things, and will certainly be one of the more successful projects you should keep your eye on heading into next year.
More resources on 0x:
https://blog.0xproject.com/0x-is-laying-the-foundation-for-the-token-economy-eb2cc3b070d0

https://www.0xproject.com/wiki#List-of-Projects-Using-0x-Protocol

https://0xtracker.com/

https://medium.com/@FEhrsam/why-decentralized-exchange-protocols-matter-58fb5e08b320
https://www.cnbc.com/2018/01/22/tencent-wechat-mini-program-push-takes-aim-at-apple-and-google.html
2017- 2018Q2 Portfolio (Discontinued)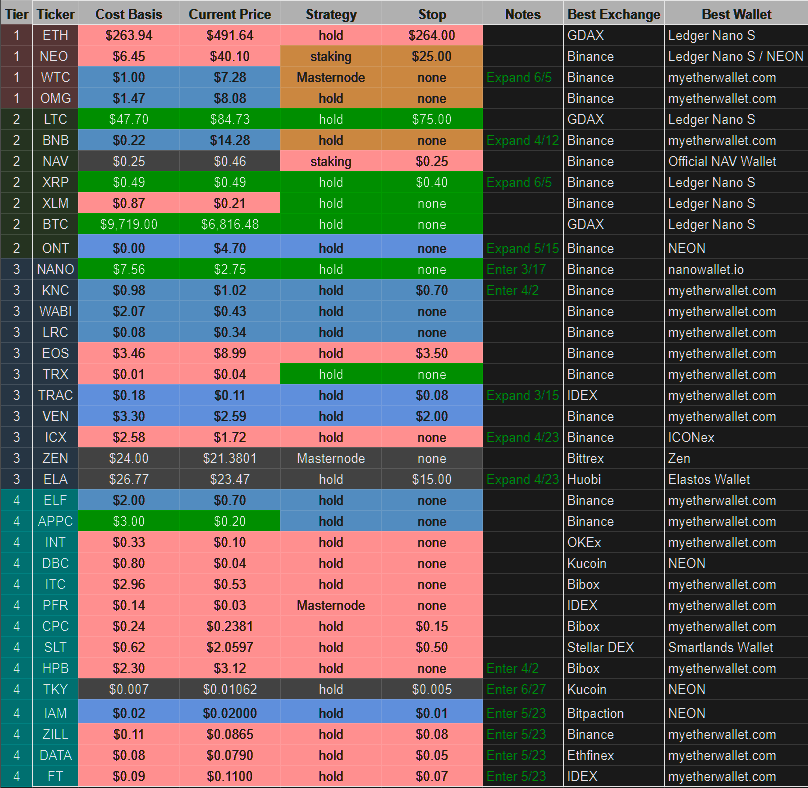 Desired Holdings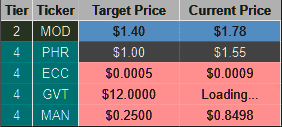 How to read this portfolio: Please click on the Chart Key tab above for definitions and color codes. The colors correspond to our 7 categories in the graphic below.
Tier 4
ZIL
IAM
FT
DATA
ELEC
Tier 2
MOD
 Tier 3
REQ
SUB
LINK
NANO
KNC
Tier 4
BNTY
TAU
WISH
PHR
LOCI
XBY
ELA
ECC
POE
HPB
BIX
EVE
XVG
NULS
DNA
How to read this portfolio: Ticker: Contains the ticker code for the coin. You can search this ticker in
Coinmarketcap
to learn more about the coin. The color denotes the risk tier by our evaluation.
Dark Red
= T1,
Dark Green
= T2,
Dark Blue
 = T3,
Light Blue
= T4 (Colors in the Ticker column do not interact with the colors in the other columns) Cost Basis = Our average purchase price for this coin. Current price = The average price of the coin based on the exchanges it is listed on. Strategy = What we plan to do with this coin. Staking is receiving dividends for that coin. Master node is also staking, but with a higher return rate for having a (large) number of that coin. Stop = Our exit point, if it exists What do the colors mean? The colors in the ticker column represent the risk profile of that coin. The colors in the other columns reflect what sector(s) that coin belongs to. Some coins belong to multiple sectors, which is indicated by multiple colors. The colors correspond to our 7 categories in the graphic below
We're ReadySetCrypto, and it's our mission to uncomplicate cryptocurrency.
Let's get started.
© 2018 Ready Set Crypto, LLC.