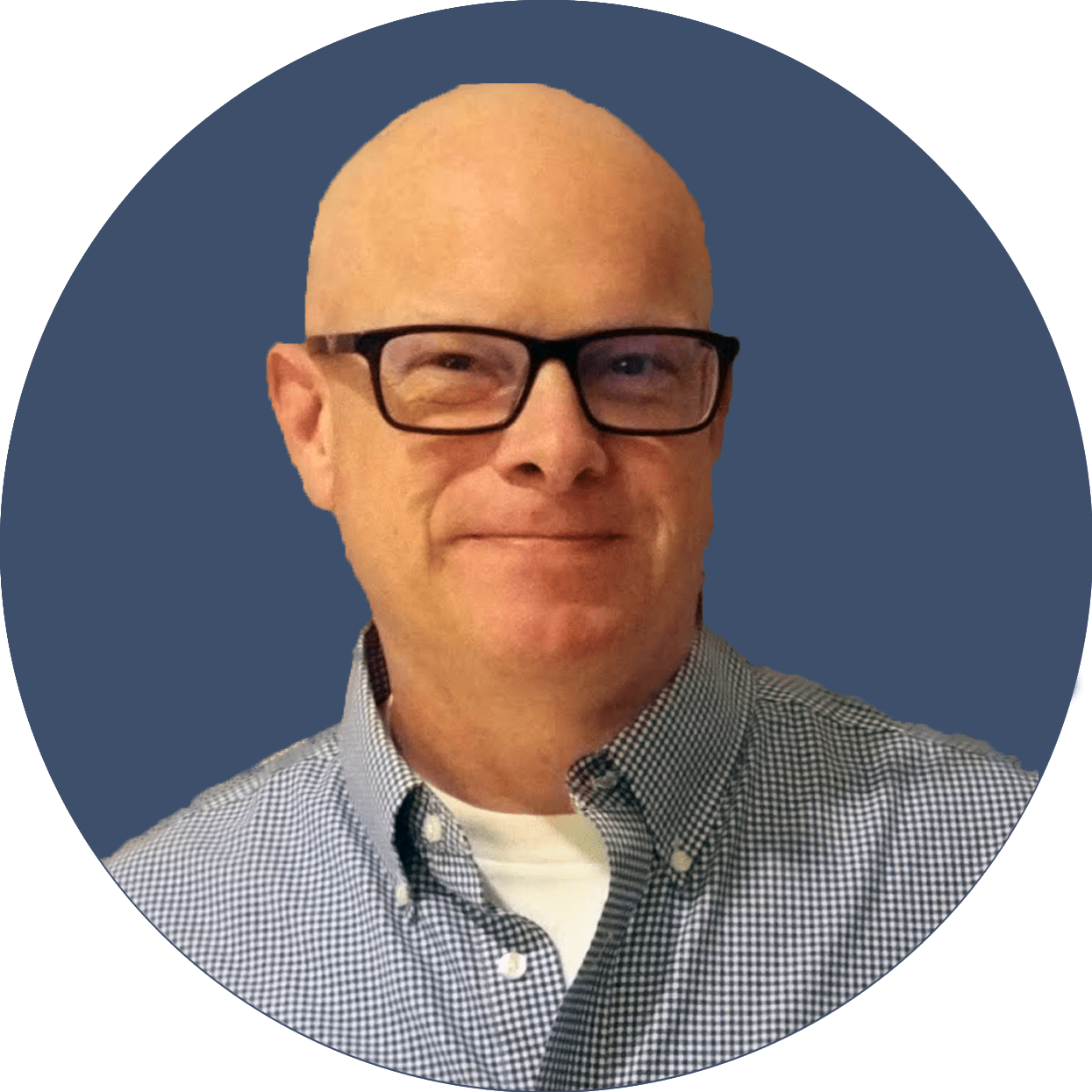 The 26 February ReadySetLive session with Doc and Mav is listed below.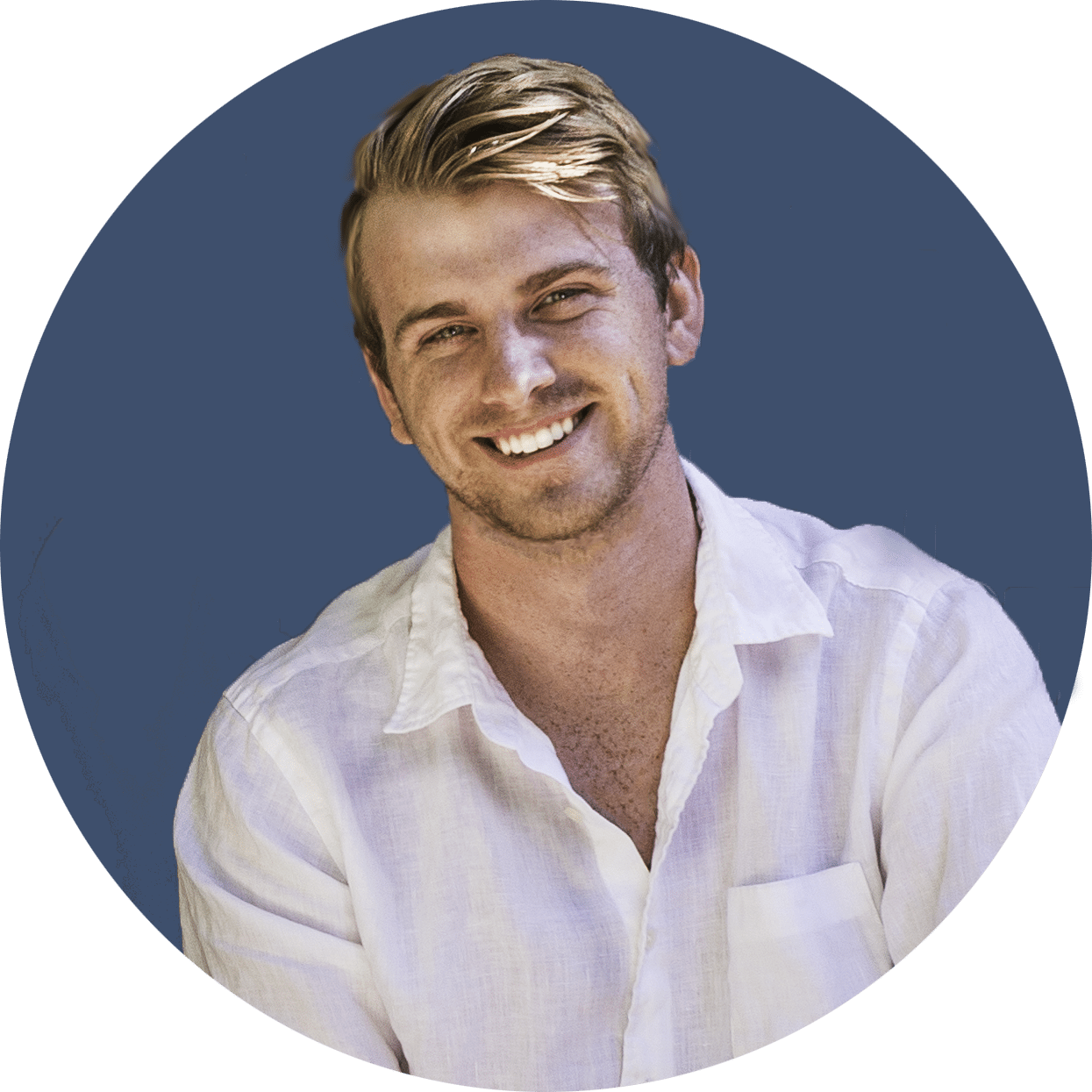 Making The Bear Your Friend
It's no secret that COVID-19 (coronavirus) has significantly impacted the stock market.
What can we do, or how should we respond to this unanticipated market plunge?
Will the stock market recover over time? Or will it get worse? What would be a winning investment strategy?
It is truly devastating to see that the death toll is now over 3,000 globally. The coronavirus is breaking out all over the world. The first US death from coronavirus occurred on Feb 29th in Washington state, and yesterday a second fatality in the US due to coronavirus was announced.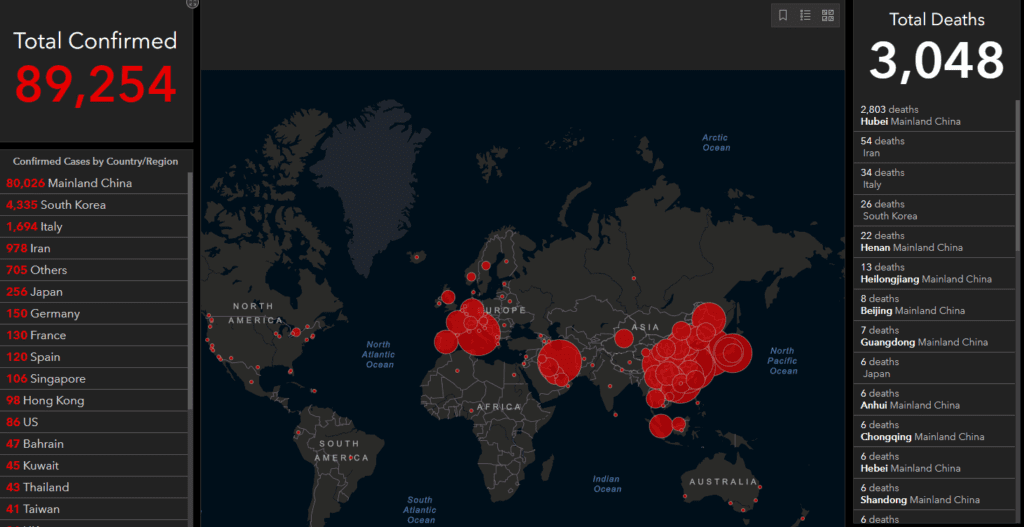 The global stock markets plunged and erased $6 trillion in wealth last week amid escalating fears of the coronavirus-COVID-19. The US stock market was not an exception. As reported in Table 1, the stock market indices experienced a significant drop, especially in the past 5 trading days. All major indices dropped more than 10%, including Dow Jones Industrial Average plunging 1,191 points at market close on Feb 27, which was the biggest one day point drop. Other major stock indices also showed a similar 'free fall' pattern. The S&P 500 fell from it's all-time high to a correction territory in record speed, and now we are at sub-3,000 points. We just experienced that worst one-week performance since the 2008 financial crisis. 

Let's take a look at the so-called fear index (VIX). The volatility index represents a market expectation of 30-day forward-looking volatility. The stock market is hugely driven by people's sentiment, and if people are pessimistic of the market, the VIX index will increase and vice versa. As of Feb 28, the VIX index is 40.11, which is the highest it's been since 2011. Prior to the coronavirus outspread, it was around 12-18. During the 2018 December market crash, VIX peaked at around 30.11, which indicates that the fear level due to coronavirus is much more severe than that of 2018 December.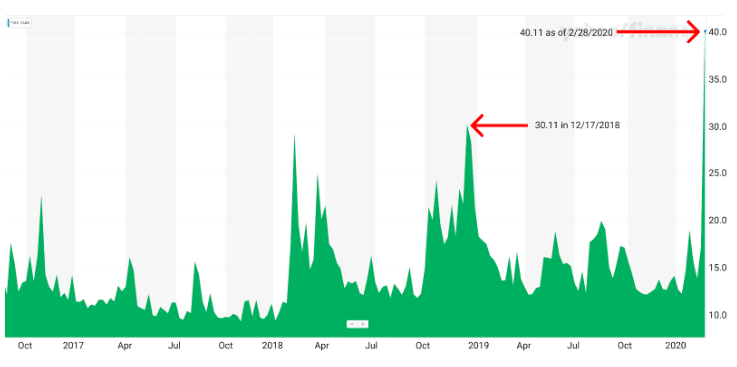 A bigger problem is that it is extremely difficult, if not impossible, to predict how the situation will develop. If the situation gets worse and if the World Health Organization (WHO) declares a global pandemic, then I would expect that the fear will rise significantly, and it will probably take a longer time for the market to recover.
On the other hand, things might get better. We are already seeing that China, the epicenter of the coronavirus outbreak, is gradually slowing down, and perhaps we could expect that to happen soon in other countries. So what we want to know is when will the market recover? Or is the US economy transitioning into a bear market? Fortunately, some experts are still quite optimistic. A recent analysis from Goldman Sachs strategist David Kostin and his team predicts that the market will rebound to 3,400 by the end of this year. This means that growth in 2020 will be marginal. However, from an investment point of view, you can gain 15% or higher if you buy at the dip, which I think is an answer that no one can answer with certainty.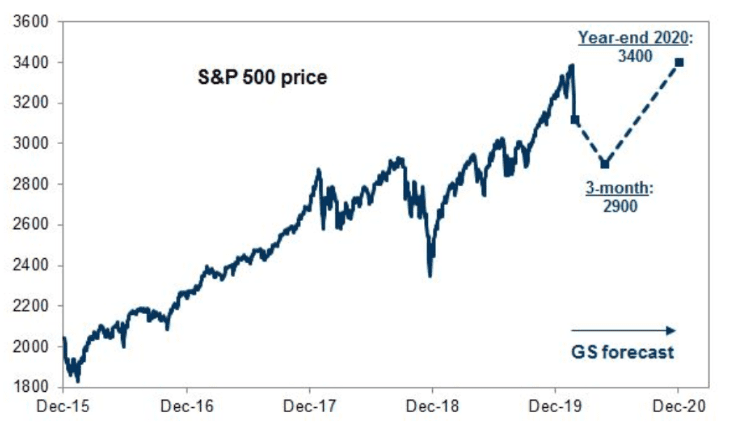 Now with all these uncertainties, what can we do? What is the best way to turn this tragic incident into an opportunistic one?
Although I couldn't come up with a meaningful list of companies, I will still share the approaches that I used to identify stocks that dipped mainly due to coronavirus. First, I focused on examining stock performance in the past 5 days and compared it with 1 month, 3month, and 1 year performances. I wanted to find stocks that have strong performance, so it had to meet the following criteria.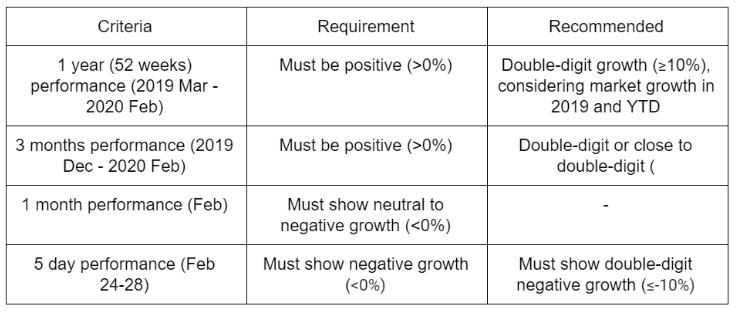 The selection criteria aim to screen high-performance stocks that recently dipped because of coronavirus. Once you apply filters as described in Table 2, you will actually see a not a bad list of companies. I also played around with market cap and other variables such as % difference between 52 weeks high and current price. 
There is also a list of S&P 500 stocks down 20% on the coronavirus outbreak.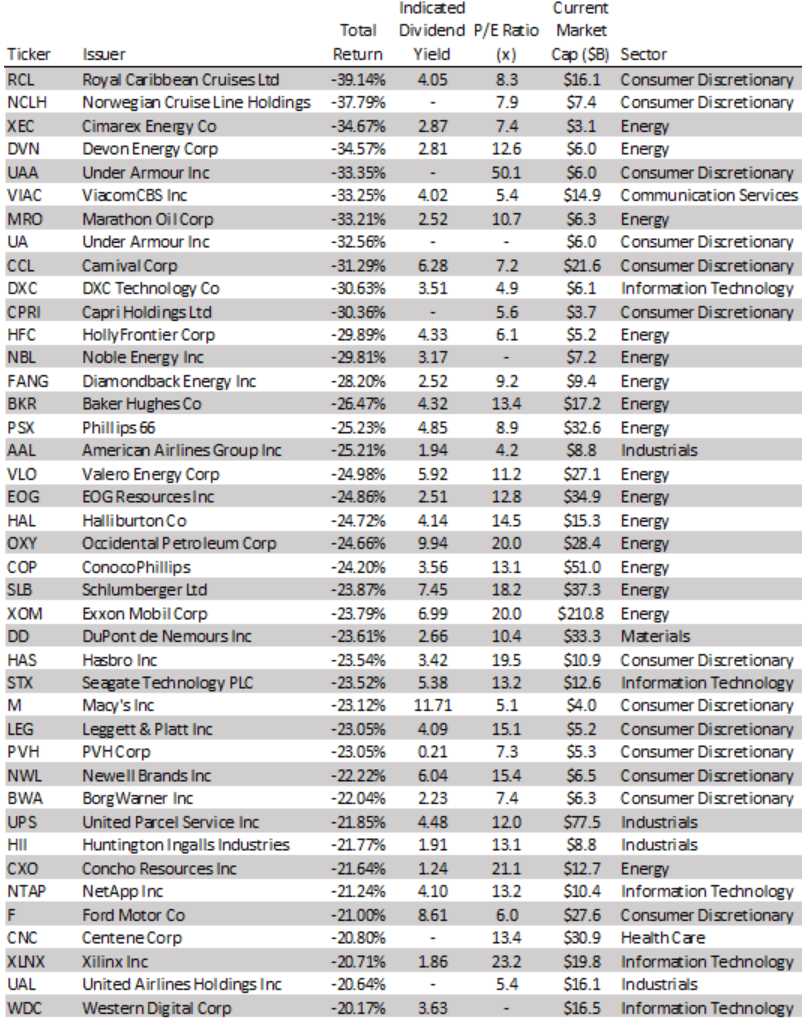 Or another approach is to identify the most beaten-down industries, and then finding individual stocks within the identified industries. The hotels, resorts, and cruise lines, as well as airline industries, are the two obvious ones that got impacted by the coronavirus outbreak. According to FactSet, the hotels, resorts, and cruise lines industry stocks declined 22.2% from Feb 19 through 27. Likewise, the airline industry showed a 19.1% decline during the same period.
The conclusion that I arrived upon was that no matter how I tried to shortlist the S&P 500 companies, it did not satisfy me. In other words, I wasn't entirely confident to invest in the list that I came up with. Even if you are fully confident with the stocks that you are investing in, there is still a good enough chance of being wrong. Especially in this kind of market volatility and uncertainty, you better be safe than sorry. 
So instead, I carefully looked through the S&P 500 list and picked the stocks that I feel comfortable investing in even in this market situation.

As you can see, lots of tech, but that's what I expect to bounce back fastest even with global supplly chain issues in the short-term. 
These are the stocks that I've been keeping my eyes on for a couple of months. Interestingly, these stocks generally are negatively impacted by coronavirus. As illustrated above, 1 year performances are all double-digit positive, 3 month performances are mostly positive, 1 month performances are mostly negative, and 5 day performances are all negative. This confirms that the stocks are all high performing stocks that recently dropped because of the virus. Since we've identified the stocks to invest in, now let's discuss investment strategy.
We know for sure that the market is full of fear and pessimism. If you decide to invest during this market, you must be mentally prepared to experience an emotional rollercoaster ride. If you think it will affect you too much, I'd recommend just staying on the sidelines until you are ready or until the market stabilizes. But if you are determined to invest, you must develop a winning strategy. And once you develop a strategy, just stick with it and don't think twice.
Press the "Connect" Button Below to Join Our Discord Community!
Please DM us with your email address if you are a full OMNIA member and want to be given full Discord privileges.
An Update Regarding Our Portfolio
RSC Subscribers,
We are pleased to share with you our Community Portfolio V3!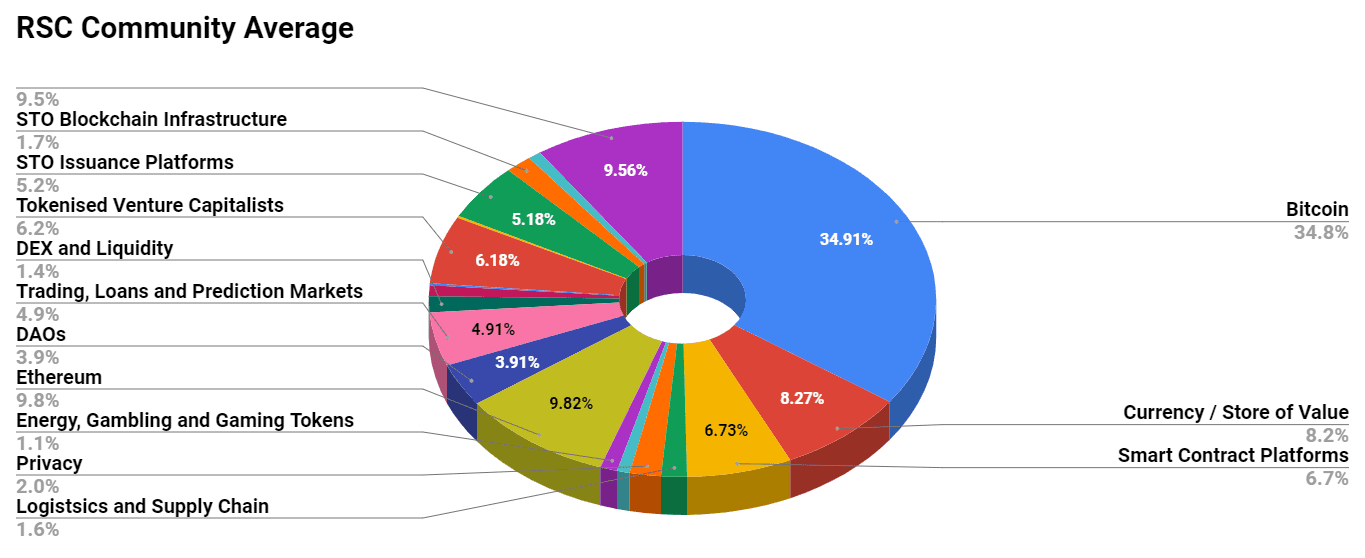 Add your own voice to our portfolio by clicking here.
We intend on this portfolio being balanced between the Three Pillars of the Token Economy & Interchain:
Crypto, STOs, and DeFi projects
We will also make a concerted effort to draw from community involvement and make this portfolio community driven.
Here's our past portfolios for reference: 
RSC Managed Portfolio (V2)
 [visualizer id="84848″] 
RSC Unmanaged Altcoin Portfolio (V2)
 [visualizer id="78512″] 
RSC Managed Portfolio (V1)