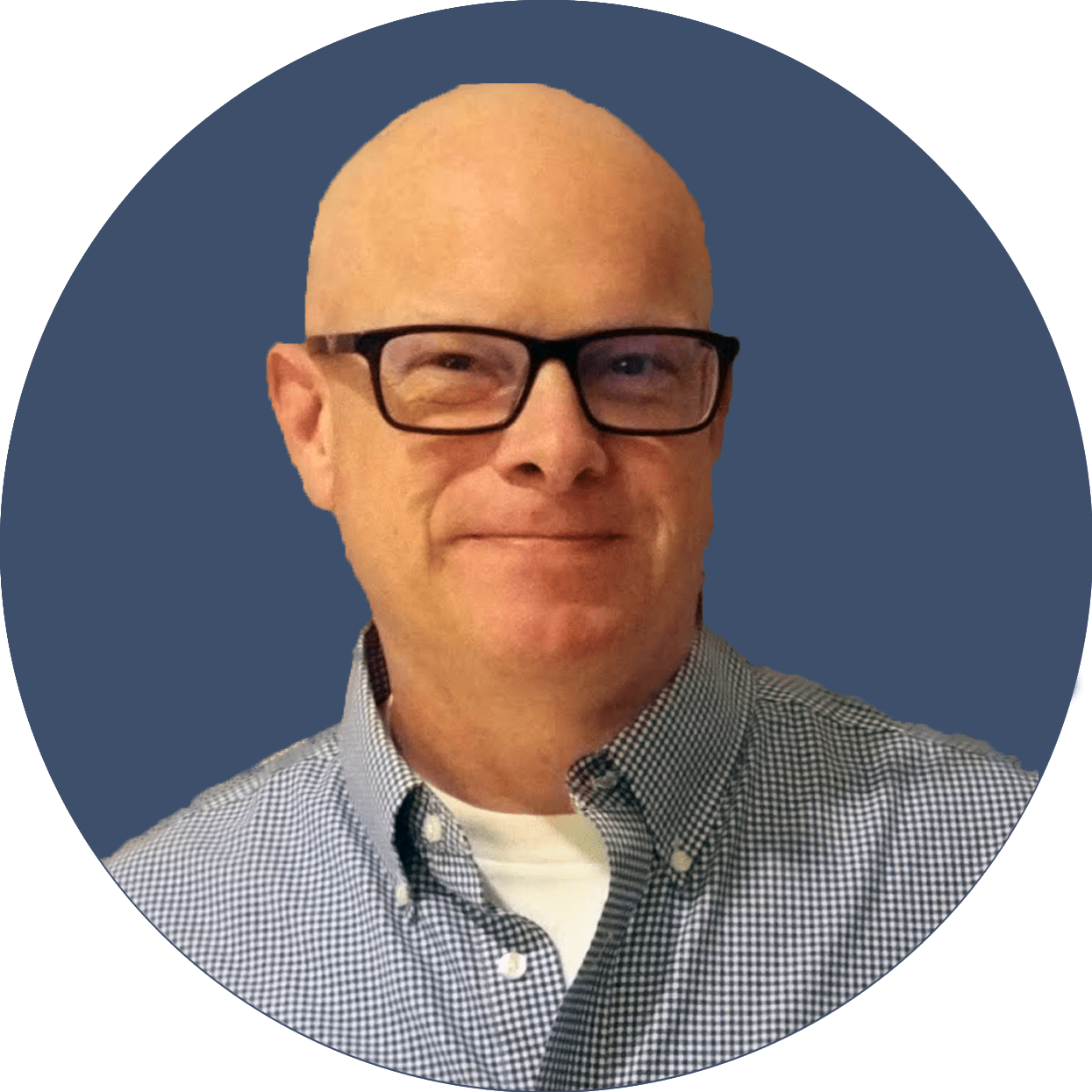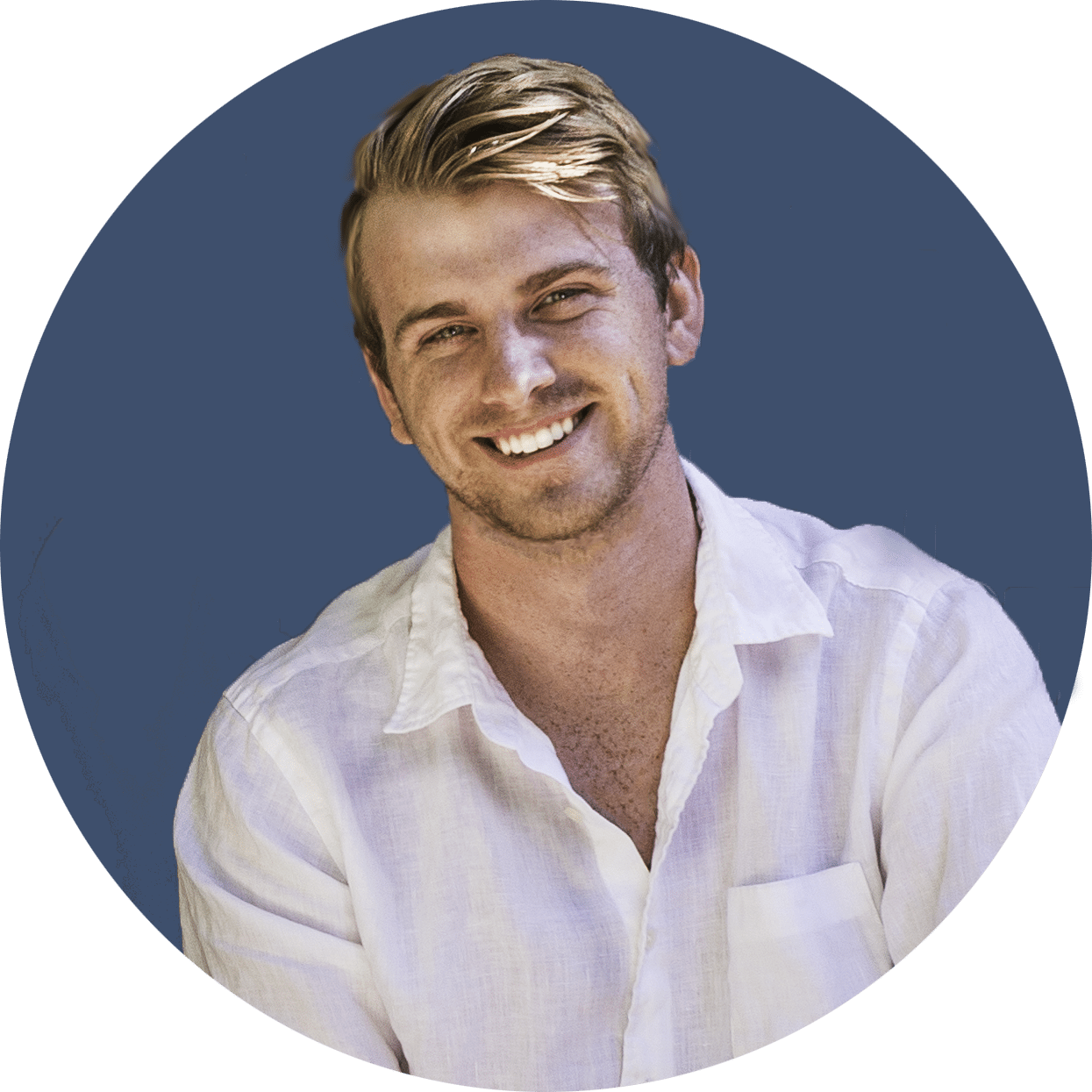 How To Profit From The War Going On In DeFi
With an actual war going on, and inflation being reported now at 7.9% (though we know it's much higher than that), the concept of a 'war' in DeFi seems silly & trivial in comparison.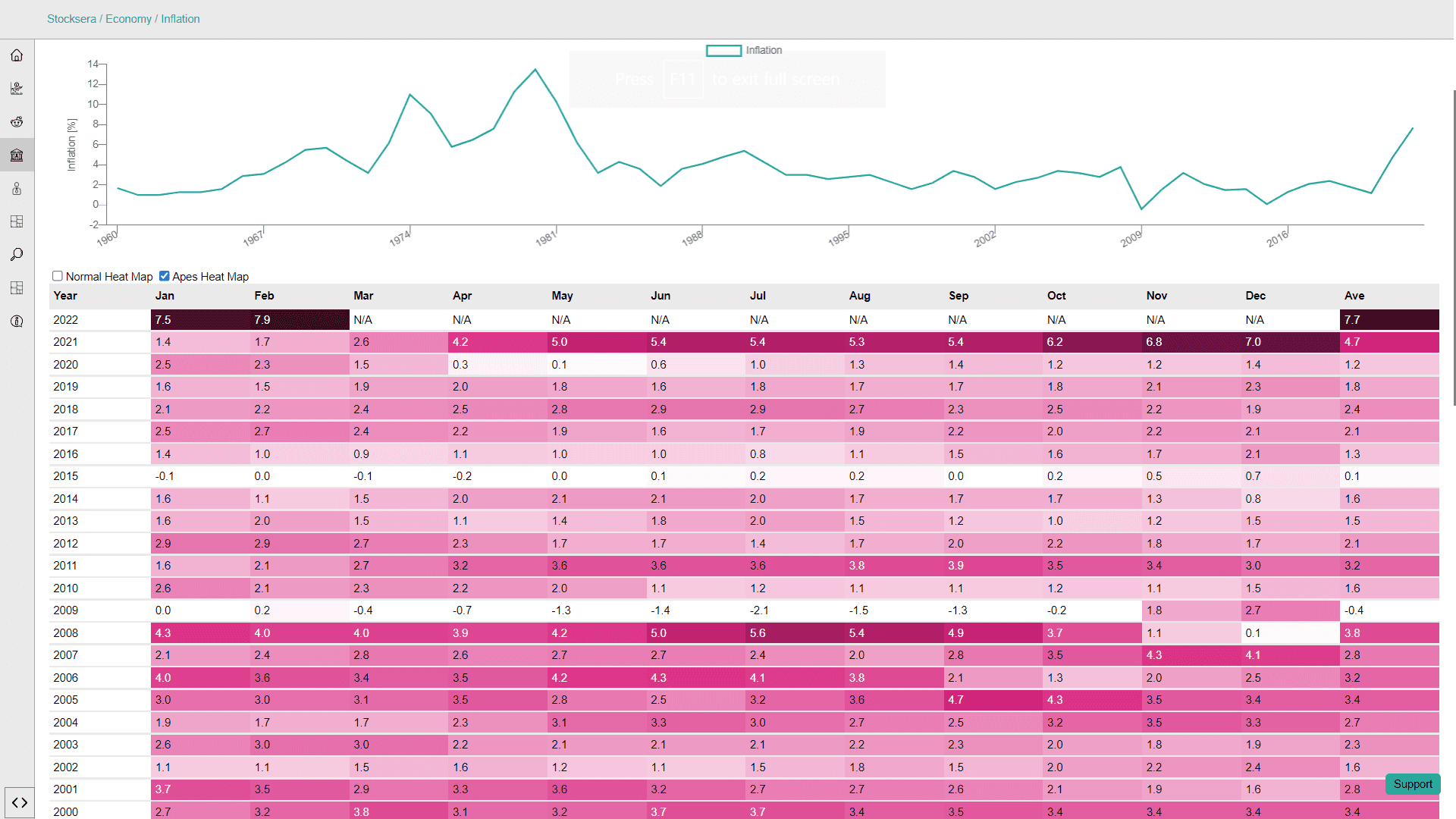 And yet, that's exactly what it is, and I'm going to tell you how to profit from it. 
What you need to know is that the world of DeFi is balanced by a need for two things:
Liquidity & incentives.
Protocols want liquidity, and we want incentives. We say we're in it for the tech, but we're also greedy.
Protocols understand this. They fight for our liquidity, incentivizing us with creative rewards.
The Curve Wars are a beautiful example of this.
I'll break it all down and include the best ways for YOU to earn passively from these liquidity battles.
Let's start from the beginning.
What is Curve Finance?
Curve Finance is a decentralized exchange (DEX) made possible through automated market-making (AMM).
If you're familiar with Uniswap or Sushiswap, it's similar to those. The difference is: It started out only accommodating liquidity pools of similarly behaving assets (mostly stablecoins).
It has an advantage in being able to provide extremely low trading fees & slippage on these similar asset pairs.
How?
CEO Michael Egorov wrote a whitepaper back in 2019 describing the "StableSwap" mechanism that allows for such efficient stablecoin swaps. It's pretty heavy math, but I encourage you to check it out.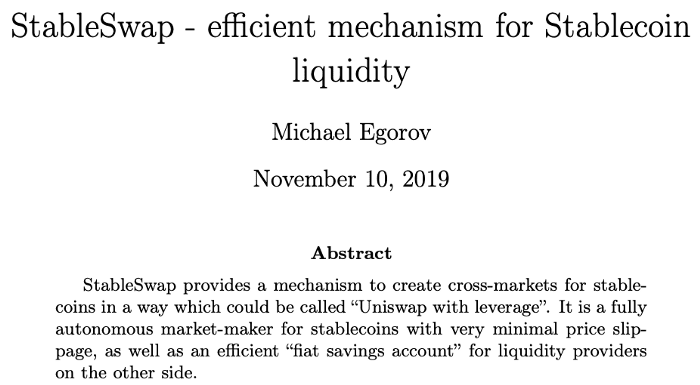 How does Curve Finance work?
The answer is full of incentives.
Liquidity providers of a trading pool earn a share of the trading fees on that pool, as well as Curve governance token ($CRV) rewards.
Two incentives. More to come.
These are differentiated between a 'Base' and 'Rewards' APY.
Check it out: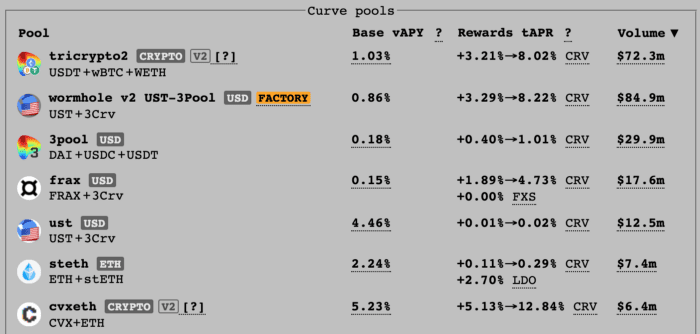 You'll notice that the 'token rewards APY' has a range. That's where their veCRV model comes in.
Vote-Escrowed CRV (veCRV) is earned by locking your $CRV tokens for 1–4 years.
Longer lock = more veCRV
veCRV earns 50% of exchange fees (other 50% to LPs) from the Curve Finance Protocol. The current veCRV APY is 7.16%: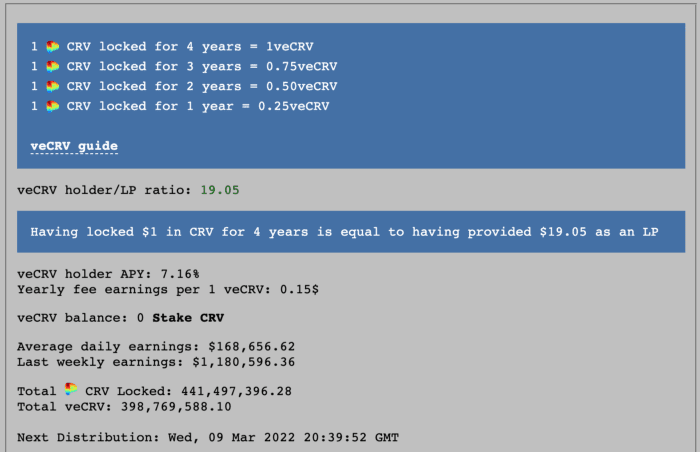 On top of the 7.16% holder APY, those with veCRV also get higher rewards in the Curve pools.
Recall that each pool had a reward range. As you lock more $CRV for veCRV, you unlock higher rewards.
Example: Accumulate veCRV to go from 3.21% to 8.02% APR on the 'tricrypto2' pool.
This cycle is brilliant tokenomics. Curve is regularly emitting $CRV tokens, but participants lock up their rewards for YEARS to get increased yield rates.
The incentives aren't over. This next one is big. It's what started the Curve wars. It's the "vote" in veCRV…
veCRV holders vote on which pools CRV rewards are allocated to.
More votes = more CRV rewards = more stakers = more liquidity
veCRV is powerful. With an ecosystem as large as Curve, it influences the liquidity of the biggest stablecoins.
Welcome to…
The Curve Wars
You have stablecoin protocols looking to control as much veCRV as possible. They just want liquidity.
AND
Protocols like Convex , Votium, and Llama Airforce Union that offer additional incentives & conveniences to get control of veCRV. They jumped in to benefit from the game.
Convex Finance is the biggest. It controls over 50% of the total supply of $CRV. Some now call it "The Convex Wars". In reality, they've just become the battleground.
Convex rose to power as a yield aggregator.
They allowed Curve LP providers a cheaper way to get maximum APY.
How?
On Curve, staking pool rewards are increased as you lock more $CRV. Oftentimes, you need more $ in CRV tokens than the value of your LP deposit to get max rewards.
Convex solved this by aggregating people's veCRV and unlocking max yield without needing all the veCRV yourself. On top of that, you're rewarded with Convex's native token, $CVX.
Convex also launched their version of locked CRV tokens, called cvxCRV. You deposit $CRV into Convex, they lock it for veCRV, and you get cvxCRV out.
You can stake the cvxCRV for rewards, and exchange it freely on secondary pools without any lockup. Right now, staking your cvxCRV yields a total reward of 43.82%. Compare that to ~7% for your veCRV with a 1–4 year lockup!
Maybe you can guess where this is going…
Similar to Curve, owning & locking CVX allows you to direct how Convex uses its veCRV votes.
So many tokens, let's recap: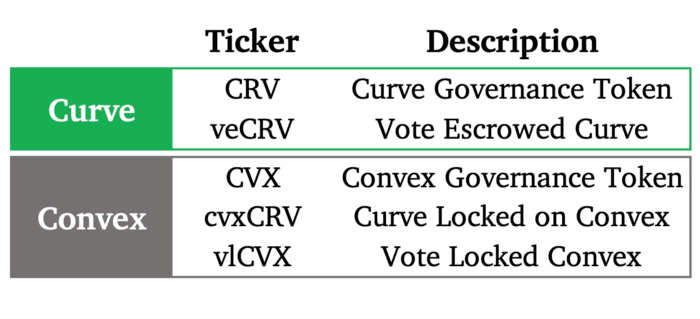 With all the Convex incentives, acquiring $CVX is now more attractive than $CRV.
Imagine you're a new stablecoin protocol. You need liquidity, and therefore need to control as much veCRV as possible. You can:
Buy & lock $CVX tokens and vote for your pool
OR
Bribe others who have vlCVX to vote for your pool
Bribing vlCVX holders is cheaper than accumulating CVX tokens. In the last round (week of Mar 3), protocols paid $0.36 per $CVX vote. Compare that to the cost of buying one $CVX, currently $17.
Protocols are paying vlCVX holders to direct CRV rewards to their liquidity pools.
Holders of locked $CVX make out well too. That's us! Convex estimates a 57% APY when including incentives (bribes).
As a vlCVX holder, you have the option of manually voting for LPs to earn bribes (not so passive…)
OR
You can delegate your votes to a protocol that will do it automatically. Enter Votium Protocol. They choose the best bribes to maximize your rewards for a voting round.
You delegate vlCVX to them, sit back, and enjoy the rewards. Votium doesn't currently have a native token. We'll see how long that lasts.
One problem with the protocol though…
You're rewarded in whatever tokens were voted for. This can mean small amounts of several coins that aren't worth paying gas to claim.
But with every problem comes a protocol quick to solve it!
The Llama Airforce Union (LAU) was born to pool Votium rewards into a single asset. The LAU will consolidate the bribe rewards into auto-compounding cvxCRV for you to claim anytime.
Okay, we've gone pretty deep down the chain of protocols involved in the Curve wars. Let's stop there and recap the best ways for YOU to benefit from this ongoing battle.
Top-Earning Strategies
1. Stake cvxCRV for a 43.8% APY. No lockup period.
2. Lock $CVX for vlCVX. Manually vote on the best bribes for 57% APY.
3. Delegate vlCVX to Votium to earn max bribe rewards.
4. Join the LAU to consolidate & auto-compound Votium rewards.
My thoughts…
Each added protocol introduces new smart contract and security risks.
Each of these also optimizes your earnings and makes it more PASSIVE. That appeals to me.
Regardless, if you're not comfortable with strategy 4, start at 2. Or, diversify and feel out multiple strategies for a while. See what works for you.
There's always more to The Curve Wars. I hope to expand on it soon.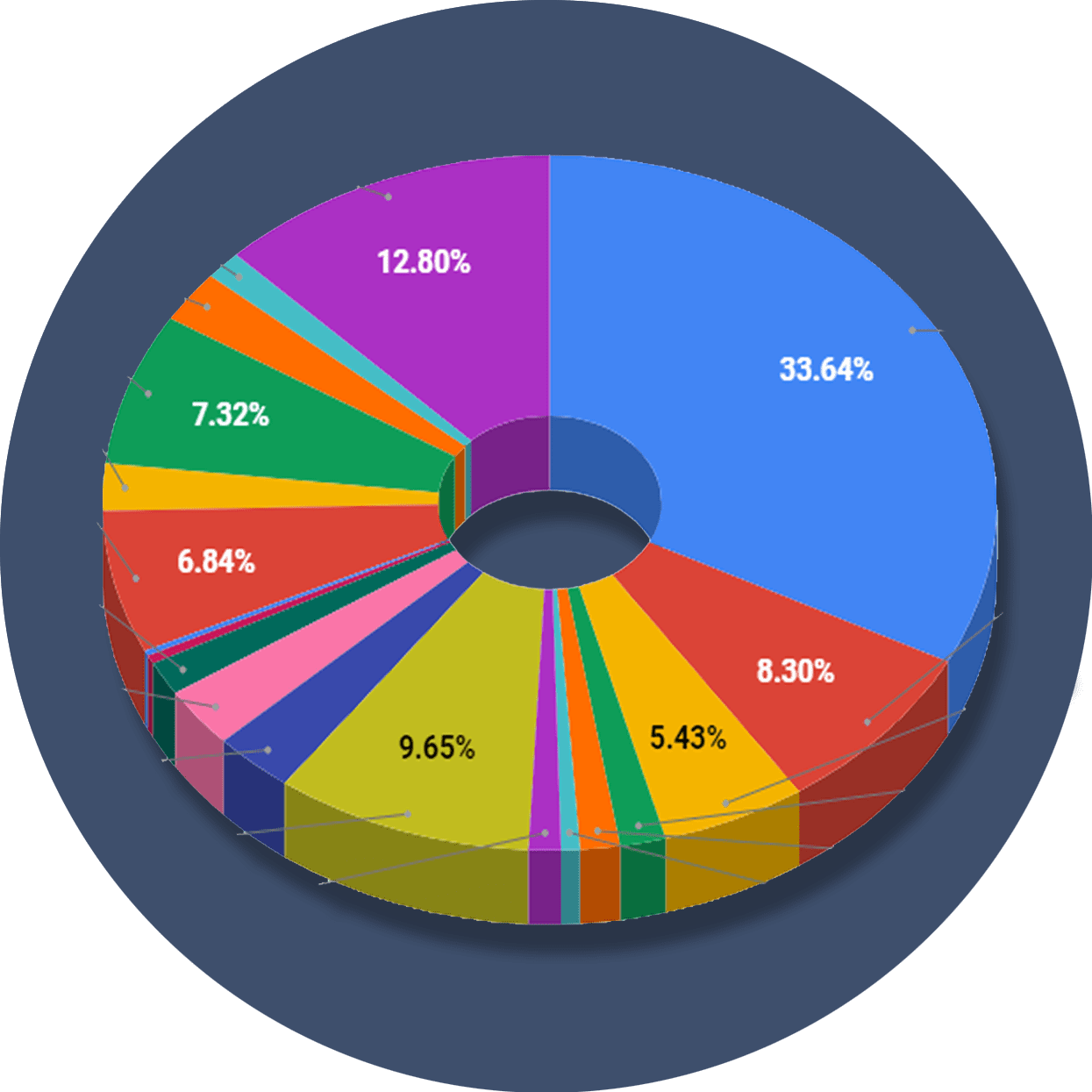 The ReadySetCrypto "Three Token Pillars" Community Portfolio (V3)
What is the goal of this portfolio?
The "Three Token Pillars" portfolio is democratically proportioned between the Three Pillars of the Token Economy & Interchain:
CryptoCurreny – Security Tokens (STO) – Decentralized Finance (DeFi)
With this portfolio, we will identify and take advantage of the opportunities within the Three
Pillars of ReadySetCrypto. We aim to Capitalise on the collective knowledge and experience of the RSC
community & build model portfolios containing the premier companies and projects
in the industry and manage risk allocation suitable for as many people as
possible.
The Second Phase of the RSC Community Portfolio V3 was to give us a general idea of the weightings people desire in each of the three pillars and also member's risk tolerance. The Third Phase of the RSC Community Portfolio V3 has us closing in on a finalized portfolio allocation before we consolidated onto the highest quality projects.
Our Current Allocation As Of Phase Three:

Move Your Mouse Over Charts Below For More Information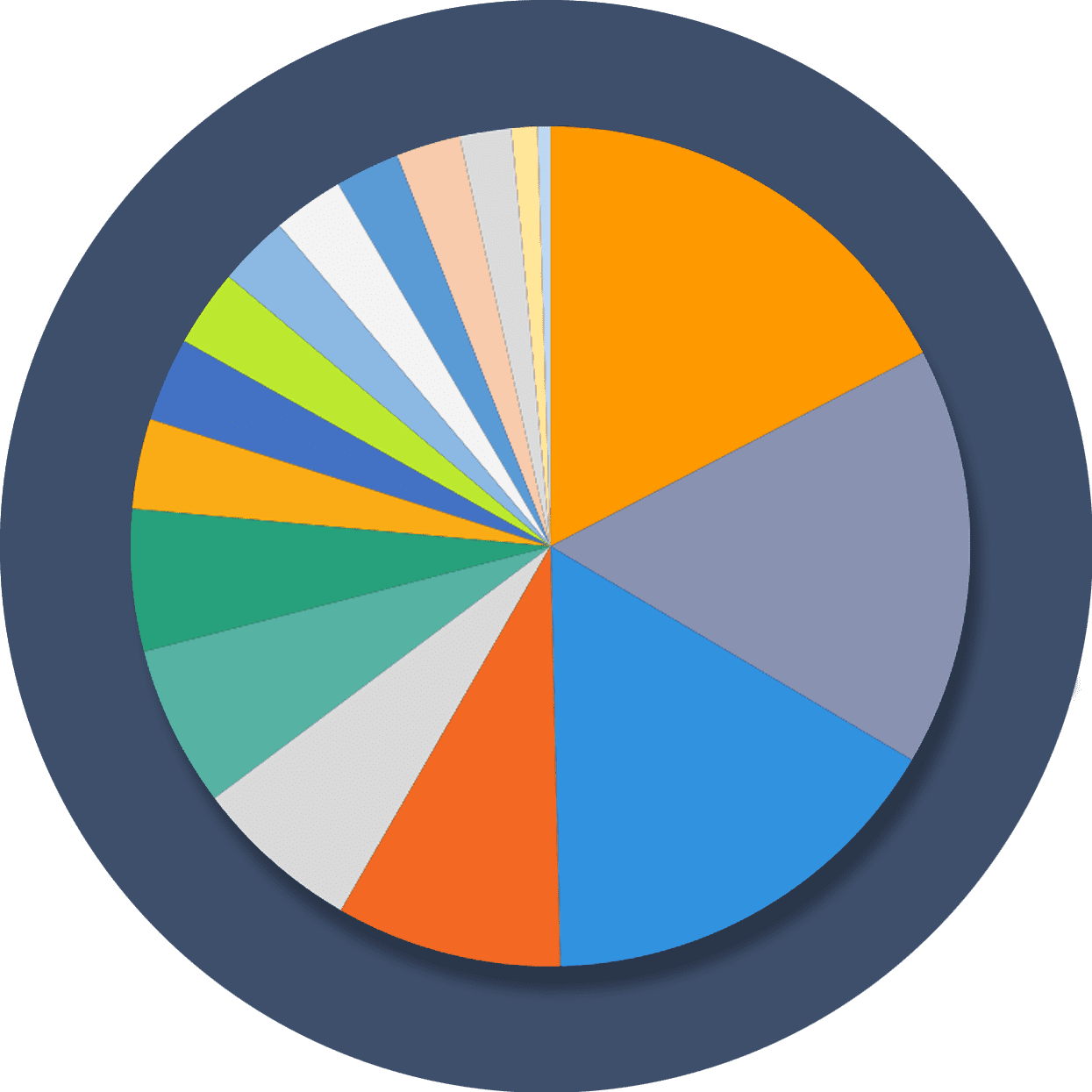 The ReadySetCrypto "Top Ten Crypto" Community Portfolio (V4)
What is the goal of this portfolio?
Current Top 10 Rankings: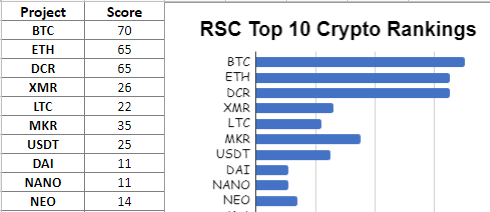 Move Your Mouse Over Charts Below For More Information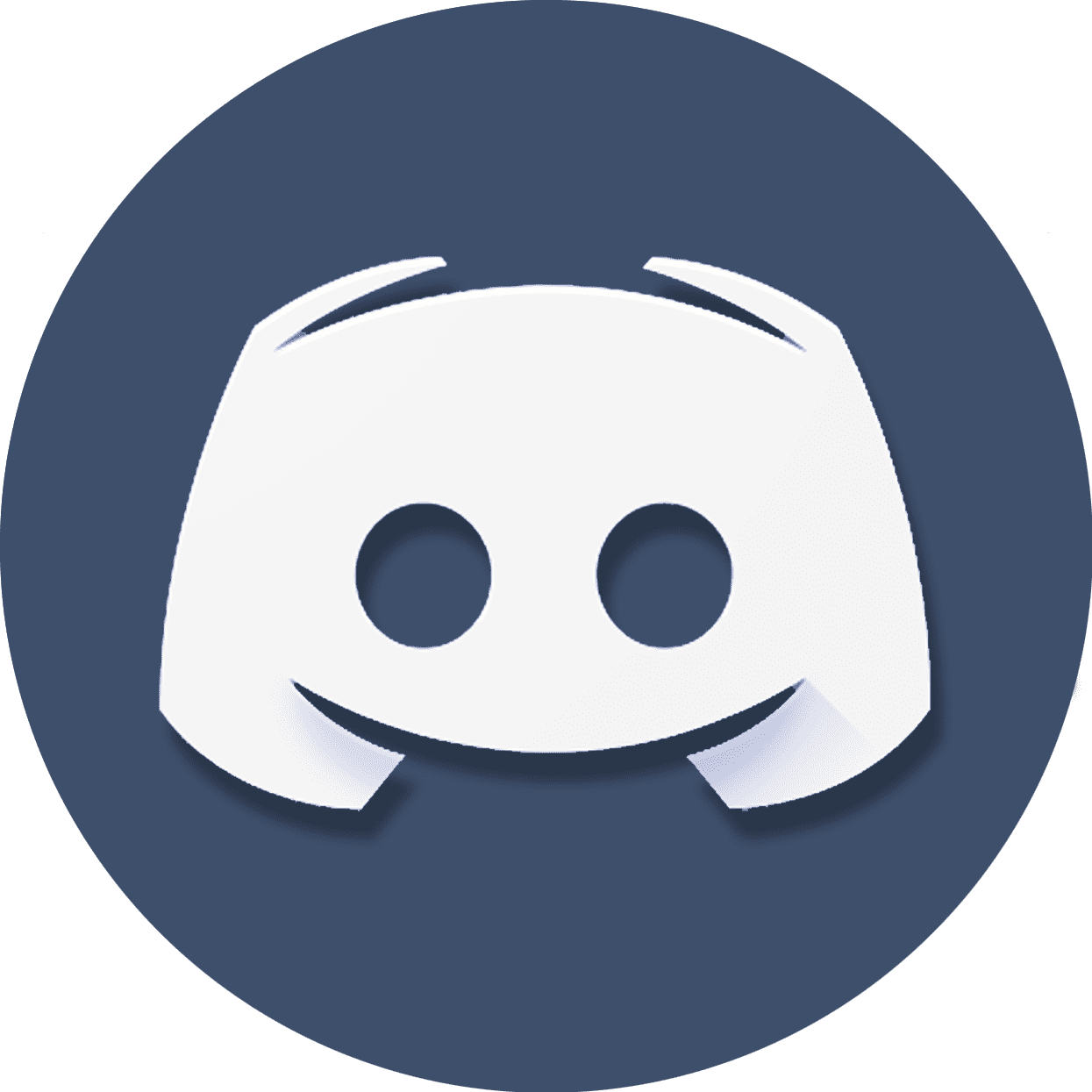 Our Discord
Join Our Crypto Trader & Investor Chatrooms by clicking here!
Please DM us with your email address if you are a full OMNIA member and want to be given full Discord privileges.