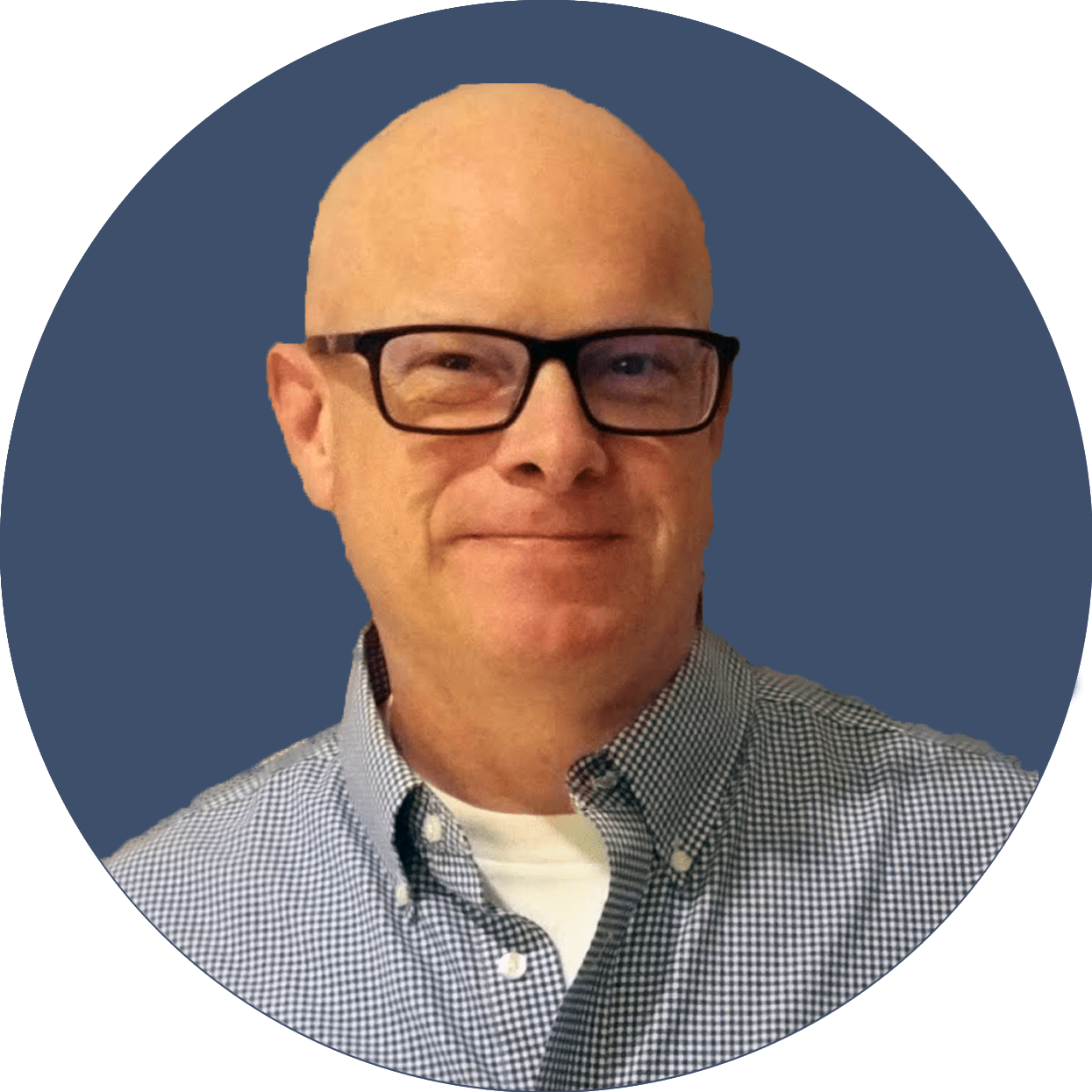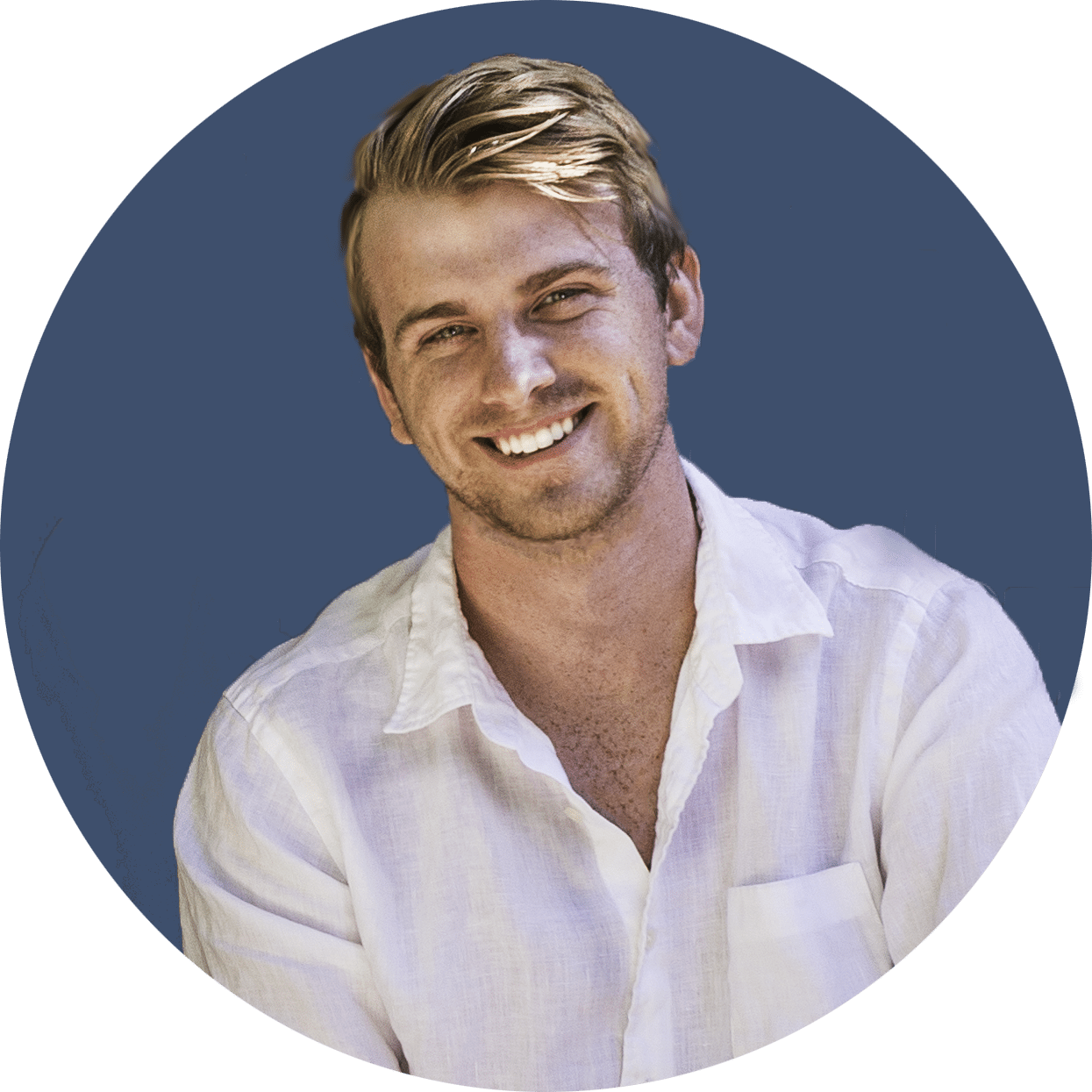 Bitcoin's Breakout In The Face Of Stock Sell-Off
In a week when stocks have pulled back 5.5% and headline writers are using words like "plummet" and "plunge," you may not have heard the more important news.
But the even bigger news that's getting overshadowed by the gloom-and-doomers has nothing to do with stocks.
That's not to say market pullbacks aren't important. They are, and folks obviously remember the rapid descent into a bear market in February and March. The oldest and most important cryptocurrency has surged more than 20% in the last three weeks and broken out to its highest level in more than two years.
We've been expecting it. We've prepared for it. And I think it's just the beginning …
To fully understand the significance of bitcoin's breakout, we need to look at both the chart and some of the latest developments that show how important cryptocurrencies are becoming in our world.
You know me as a hypergrowth trend investor, and that's 100% accurate. But I also learned technical analysis early in my career and incorporate that into my research as well. And let me tell you, I freakin' love the action in bitcoin right now.
First, let me show you bitcoin's three-year price chart. You can see how it has jumped above $13,500 to prices not seen since January 2018 when it was on its way down after all-time highs above $20,000 the month before.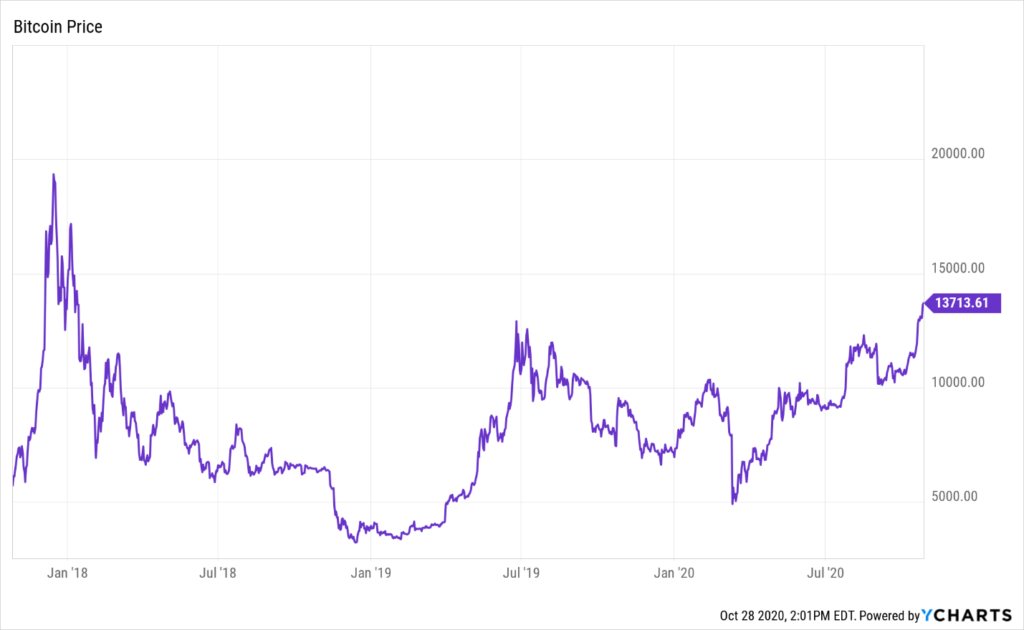 The chart shows a classic bullish consolidation pattern. Think of these like coils or springs that wind tighter and tighter. When they're released, a lot of built-up tension can cause the price to explode.
You can see this play out in the chart below. Bitcoin popped above $10,000 in late July and held there. In fact, it went on to set a record for consecutive days above $10,000. As it held, it consolidated, trading mostly sideways for the next two to three months. And as it traded sideways, the range and trendlines (in green) narrowed.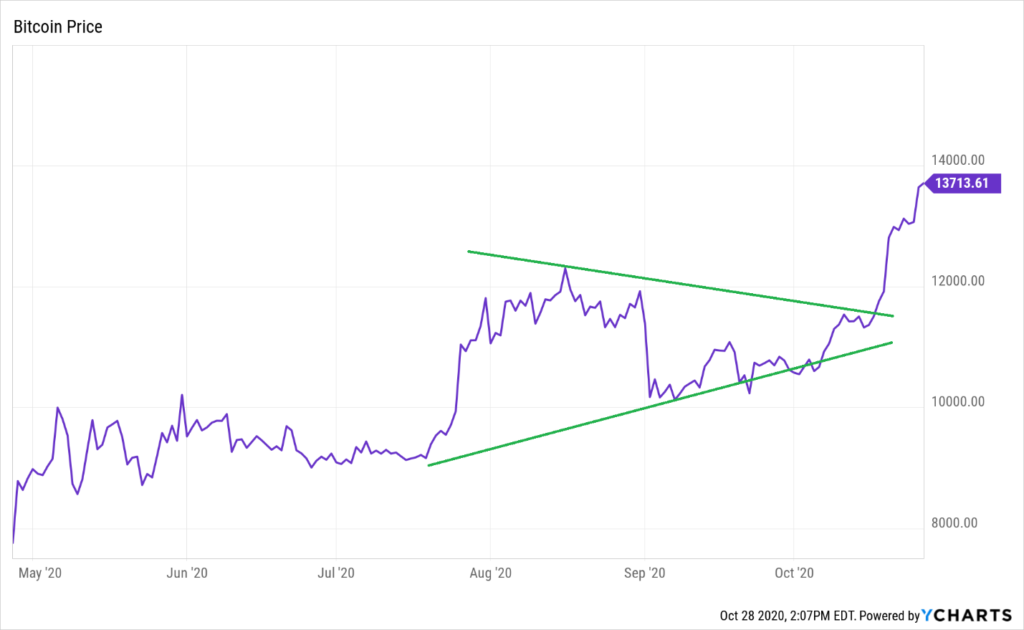 As the consolidation range narrows, the asset must ultimately break out of the trendlines one way or the other. Breakouts typically occur in the direction of the prior trend. For bitcoin, that was its move over $10,000 … and it indeed surged quickly above $13,500.
Like I said, breakouts often mirror what came before them. The last move was bitcoin's several thousand-point move in late July. A similar run would put it in the upper teens and closing in on its all-time high.
And that brings me to the growing awareness and use of bitcoin and altcoins.
This is more than a technical breakout. People everywhere are waking up to the fact that cryptocurrencies are one of the most valuable technologies ever created. As this continues, there will be an enormous rush into bitcoins and altcoins.
I think we're seeing the early signs of the next big tech awakening, just as we did with the internet, personal computers, smartphones, the automobile, and so many other breakthroughs.
The next big awakening has to do with both cryptos and the technology they run on — the blockchain. It's going to affect almost everyone and everything. The way you buy everyday goods and services … buy a home … pay your taxes … even how we vote in the future.
This transformation is already underway, but the truly seismic shift — when the massive profits are made — comes as businesses, consumers, and big-money investors realize what's going on, and then act upon it.
The tide is shifting . . . can you feel it?
PayPal announced it is launching a new service that will allow users to buy and hold cryptocurrencies directly from a PayPal account. The initial rollout will include bitcoin and three large altcoins, but I am certain that universe will expand in the future. What's more, the rollout will expand internationally … and then to its Venmo customers in early 2021.
PayPal joins competitor Square in allowing users and merchants to transact with cryptocurrencies. And get this … Square's bitcoin revenue has increased 600% during the pandemic!
The world's biggest companies — those with long track records of backing the biggest and most important trends — have kicked off a new battle for crypto supremacy. Companies like Apple, Microsoft, Alphabet, Amazon, and Facebook are all investing billions.
Wall Street wants in on it, too. Hedge fund tycoon Paul Tudor Jones, who's worth billions, is not shy about his love for bitcoin. In an interview on CNBC, Jones stated that he believes bitcoin is still in its early innings … and has a long way to go.
He's right … and this big tech awakening could singlehandedly drive the price of bitcoin and other select cryptocurrencies to never-before-seen heights. If you position yourself correctly, it could hand you a fortune.
See past today and look to tomorrow. That's where the money is.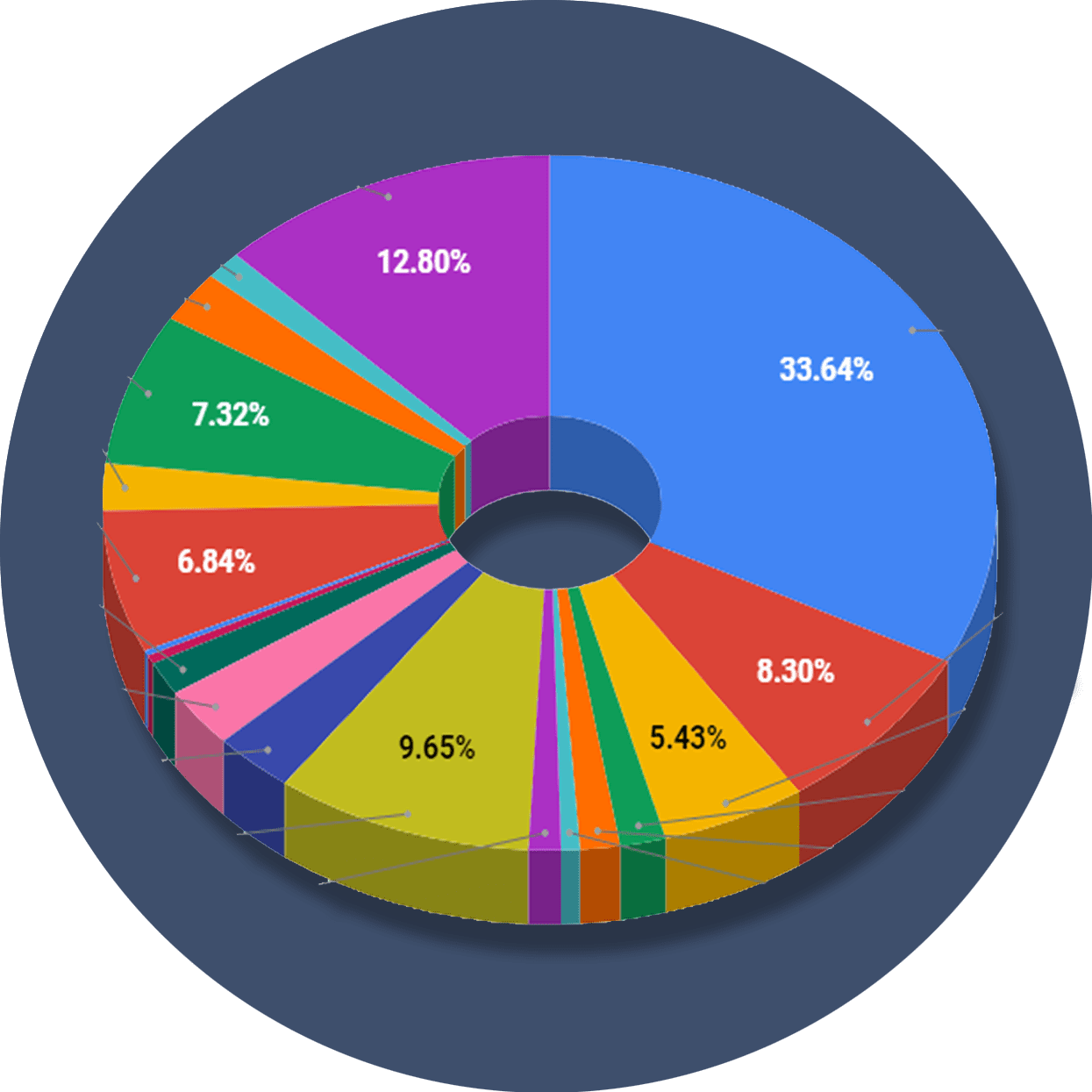 The ReadySetCrypto "Three Token Pillars" Community Portfolio (V3)
What is the goal of this portfolio?
The "Three Token Pillars" portfolio is democratically proportioned between the Three Pillars of the Token Economy & Interchain:
CryptoCurreny – Security Tokens (STO) – Decentralized Finance (DeFi)
With this portfolio, we will identify and take advantage of the opportunities within the Three
Pillars of ReadySetCrypto. We aim to Capitalise on the collective knowledge and experience of the RSC
community & build model portfolios containing the premier companies and projects
in the industry and manage risk allocation suitable for as many people as
possible.
The Second Phase of the RSC Community Portfolio V3 was to give us a general idea of the weightings people desire in each of the three pillars and also member's risk tolerance. The Third Phase of the RSC Community Portfolio V3 has us closing in on a finalized portfolio allocation before we consolidated onto the highest quality projects.
Our Current Allocation As Of Phase Three:

Move Your Mouse Over Charts Below For More Information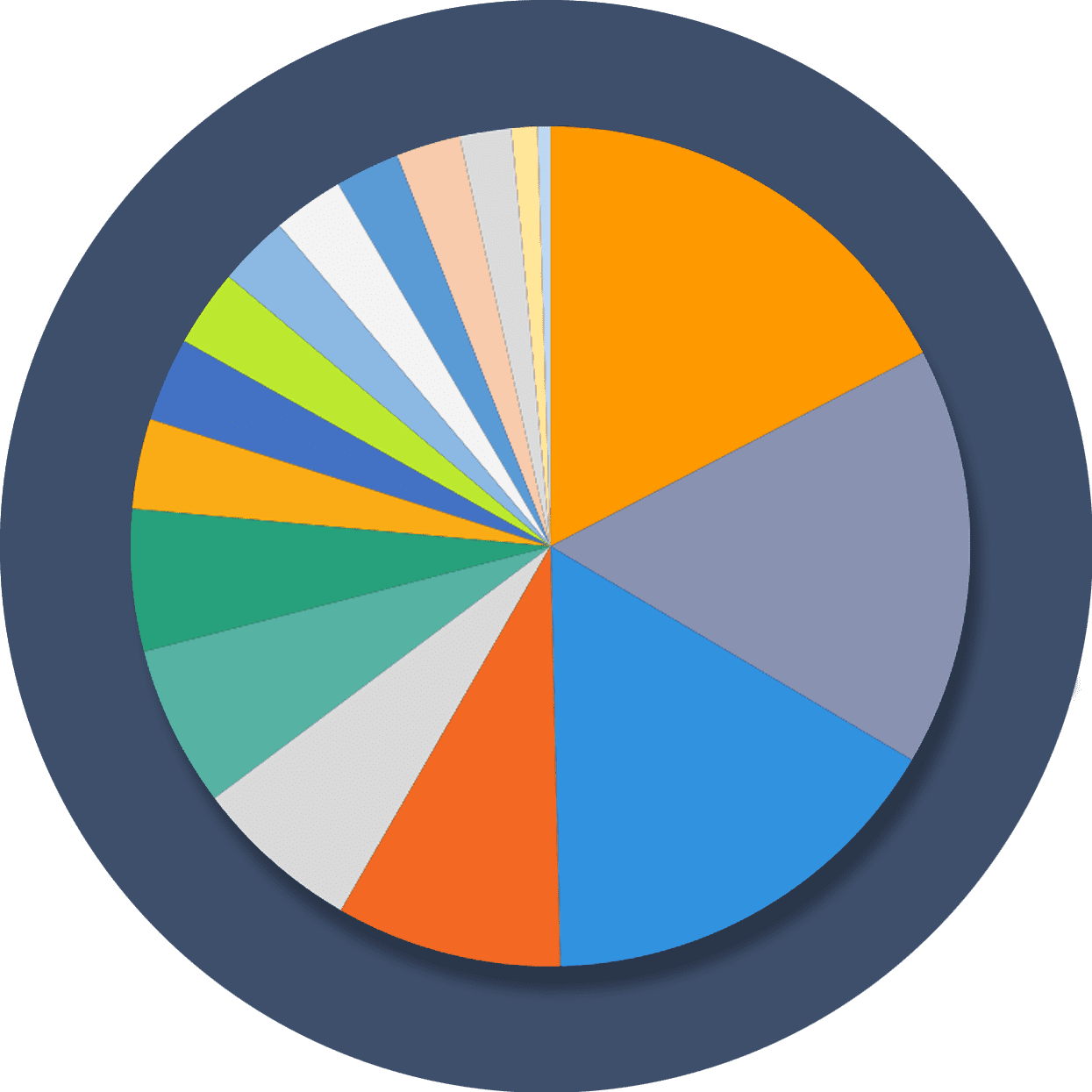 The ReadySetCrypto "Top Ten Crypto" Community Portfolio (V4)
What is the goal of this portfolio?
Current Top 10 Rankings: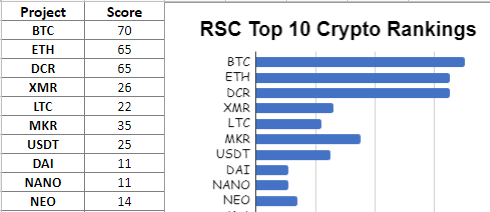 Move Your Mouse Over Charts Below For More Information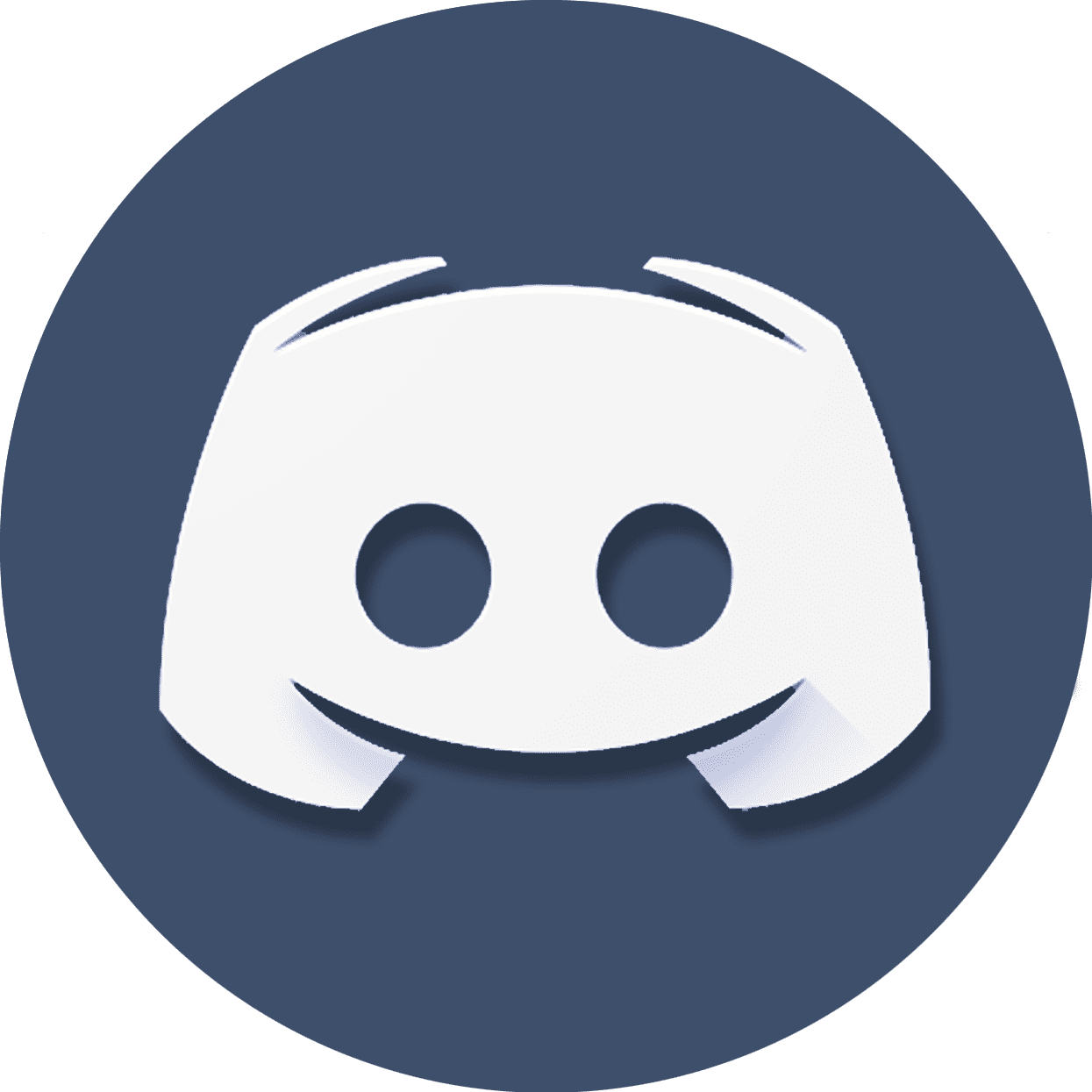 Our Discord
Join Our Crypto Trader & Investor Chatrooms by clicking here!
Please DM us with your email address if you are a full OMNIA member and want to be given full Discord privileges.