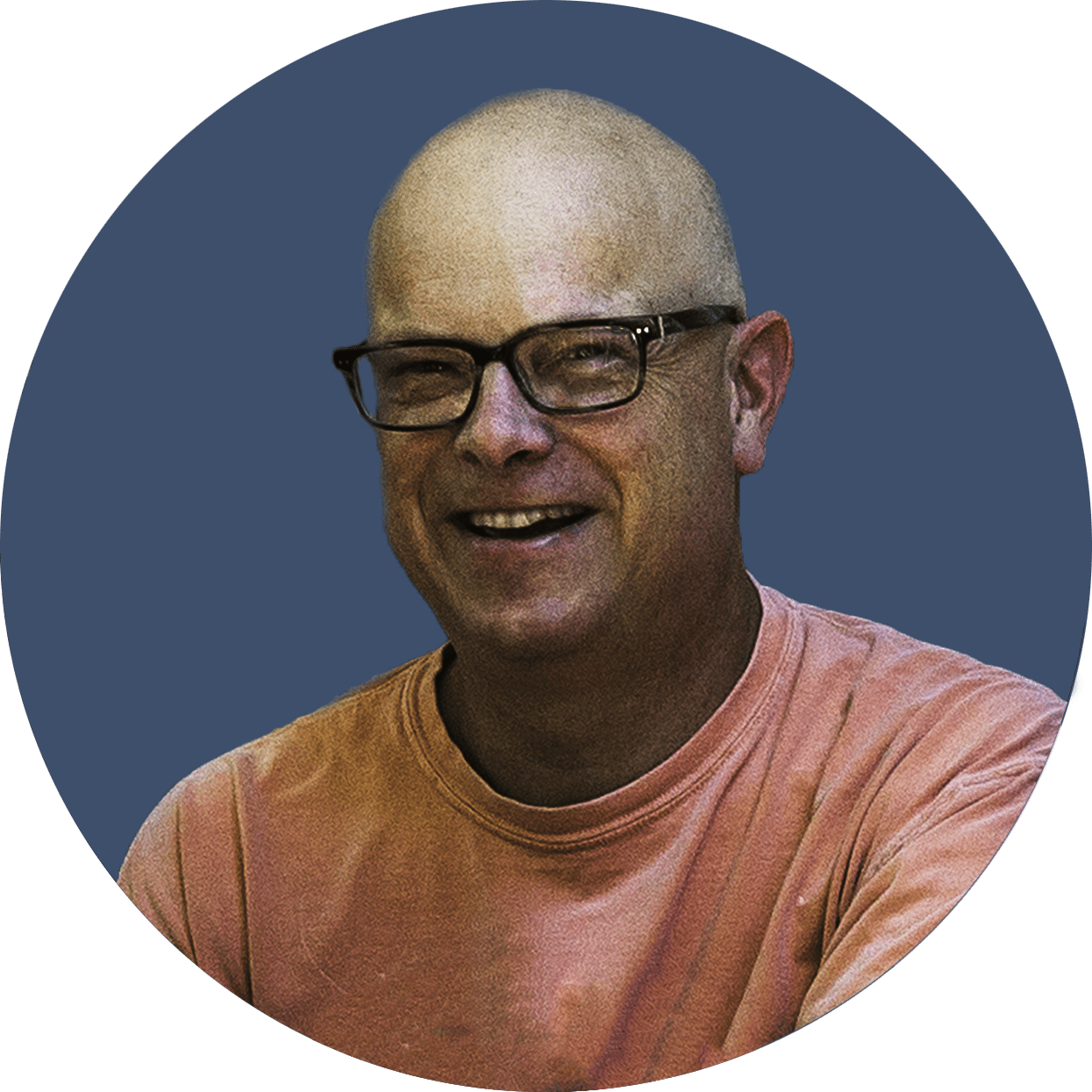 Look for the new "Options for Income Masterclass" which is now live!

The 9/24 Live Update with Doc is listed below. We'll be live again tomorrow afternoon 1600ET.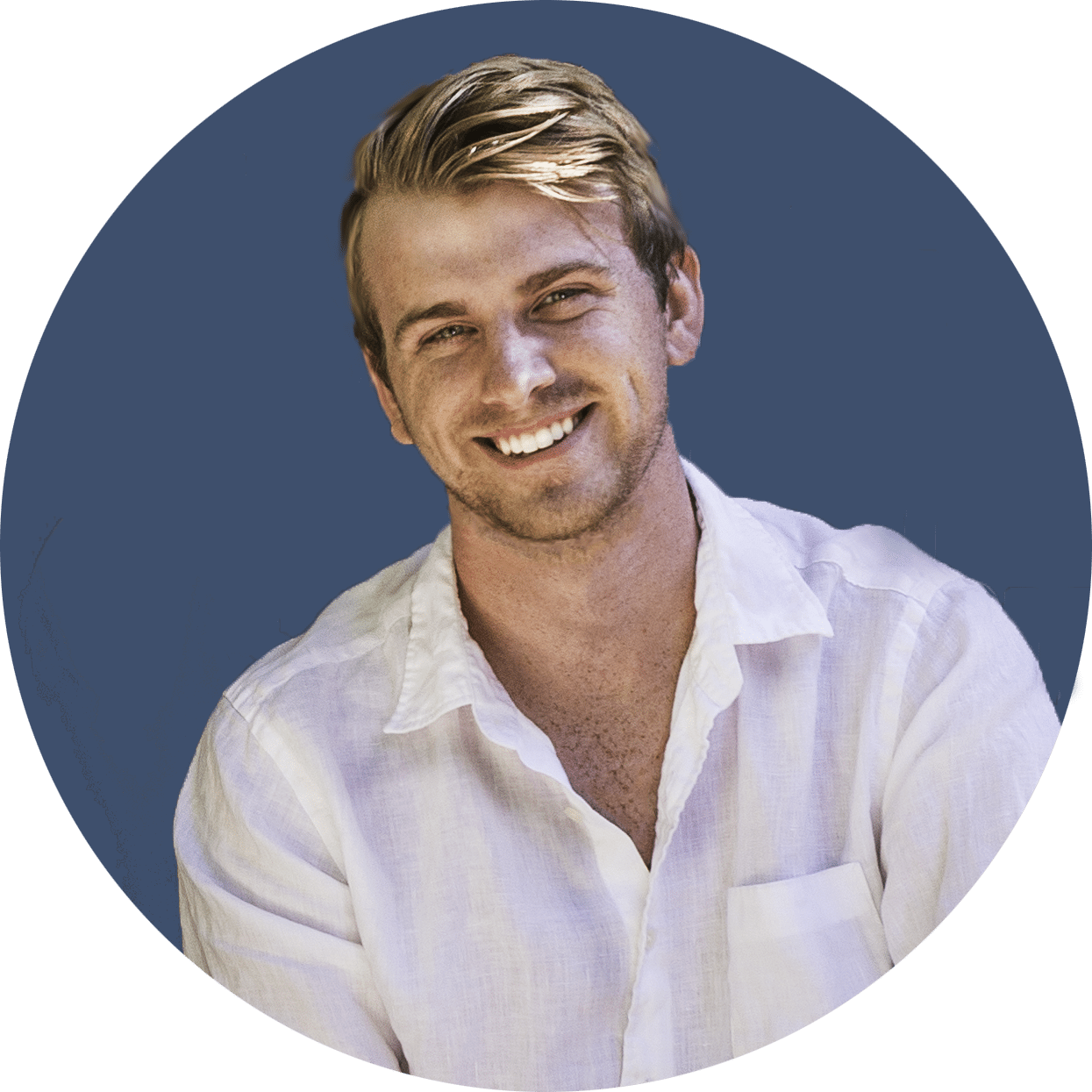 Crypto Market Melts Down
Woah.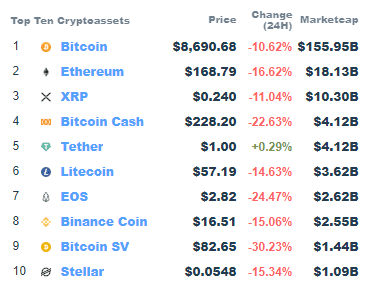 Bitcoin's price fell by more than $1,000 in less than an hour. As of writing this, the current daily low was recorded at $7,998 on Bitstamp. This was the lowest price of Bitcoin since June 11 of this year.
Altcoins are also bleeding, as some such as EOS are down 30% against the USD. All of this comes only a day after the most anticipated event of the past year – the launch of the Bakkt Bitcoin futures trading platform.
So, what's going on? Let's look at some driving forces.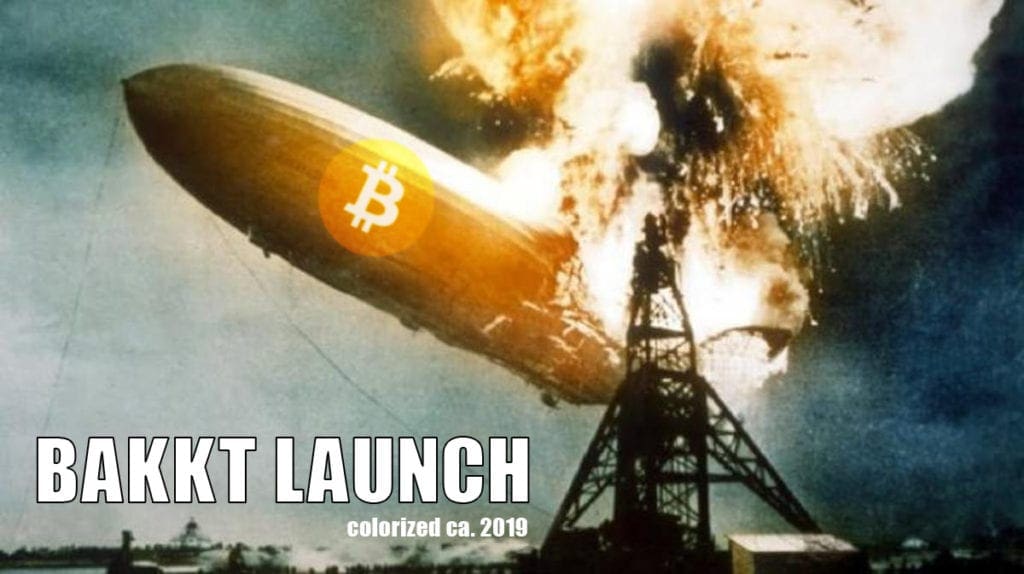 Bakkt Launch Disappoints
While the sharp drop is remarkable, the general decline in the market is line with a disappointing start for Bakkt, the trading platform initially introduced to the crypto world one year ago by the Intercontinental Exchange (ICE). Designed to provide institutional traders and retailers greater access to Bitcoin, Bakkt officially went live on Sunday night and got a relatively lackluster reception. 
The platform saw only five Bitcoin futures contracts traded within its first hour. That number rose to a measly 28 within a ten-hour span. Su Zhu, chief executive of Three Arrows Capital in Singapore, told Forbes that Bakkt, like most regulated exchanges, will be slow to catch on at first given that many people prefer to wait and watch what happens before entering the mix themselves.
A Looming Economic Storm and Precious Metal Jump
The global economy has been shuddering lately as central banks worldwide have announced monetary and quantitative easing tactics across the board. 18 central banks have slashed interest rates and massive amounts of fresh fiat is being printed alongside negative interest rates becoming the norm and the selling of 50-100 year bonds. Cryptocurrencies have benefited slightly from the macroeconomic storms but precious metals have seen a great push as well. Gold and silver dropped a few days ago but on September 24 both markets have risen significantly. Gold is trading for $1,515 while silver is trading for $18.64 per ounce at the time of writing.
No one knows how the economy will turn out in the next 12 months but many economists predict a worldwide recession. Currently, scalpers and intraday traders are making a few bucks off the price swings stemming from BTC and LTC markets but traders are uncertain of the future. Crypto enthusiasts are hesitant to forecast where crypto markets will go, even though people are very optimistic about the long-term game.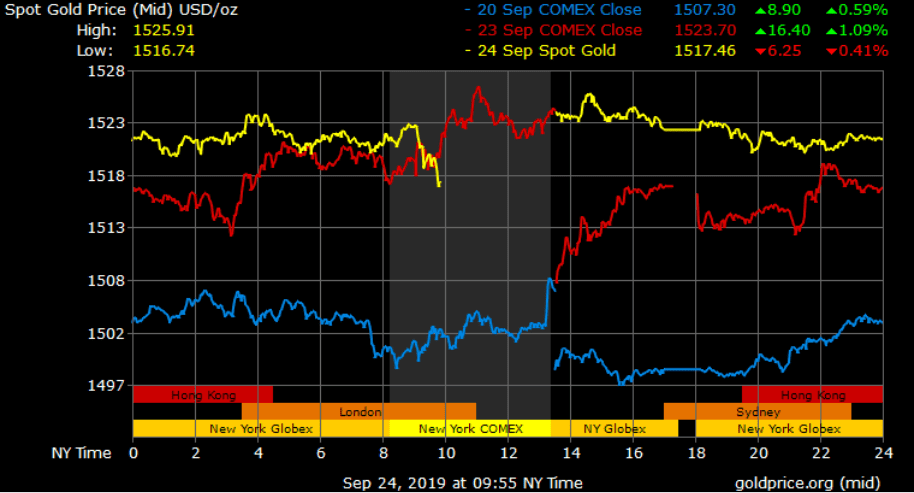 Politics Politics Politics
It was a pretty spicy day in global politics.
The UK Supreme Court ruled that Boris Johnson suspended the UK Parliament unlawfully. The landmark decision was unanimous.
Across the pond, Speaker Nancy Pelosi said the House will launch a formal inquiry into whether President Trump should be impeached, declaring that no one is above the law.
Without discussing the validity for or against either of these, it should be clear that these events will have large ripple-effects on the stability of the world economy.

Hash Rate Drop
Data from Blockchain.com shows bitcoin's hashrate flash crashing from a previous high of around 100 exahashes per second (EH/s), to a relatively lackluster 68 EH/s, in the space of 24 hours. Oscillating fluctuations of this nature are relatively common in bitcoin's hashrate –  as depicted by the chart above. However, this crash marks one of the most significant pullbacks in hashing power in over two years.
As for any explanation, there is no overtly apparent reason. One could surmise that this is an exodus of miners, leaving due to a lull in bitcoin's price. Miner profitability depends on several criteria; the equipment used; the cost of the miner's electricity bills; BTC price; and the mining difficulty. If any or all any of these factors stray from equilibrium, the miners may decide to shut up shop, resulting in a drop in hashrate. Indeed, this means if a big mining firm theoretically drops out, we could see a crash much like today.
The importance of hashrate cannot be undermined; it not only denotes the growing strength and security of the network but popularity too. Essentially, hashrate measures the amount of computational power within bitcoin, the higher the hashing power, the more miners are contributing to the network; the more miners there are, the more secure the network becomes. However, as hashrate increases, BTC becomes harder to mine, due to difficulty adjusting accordingly.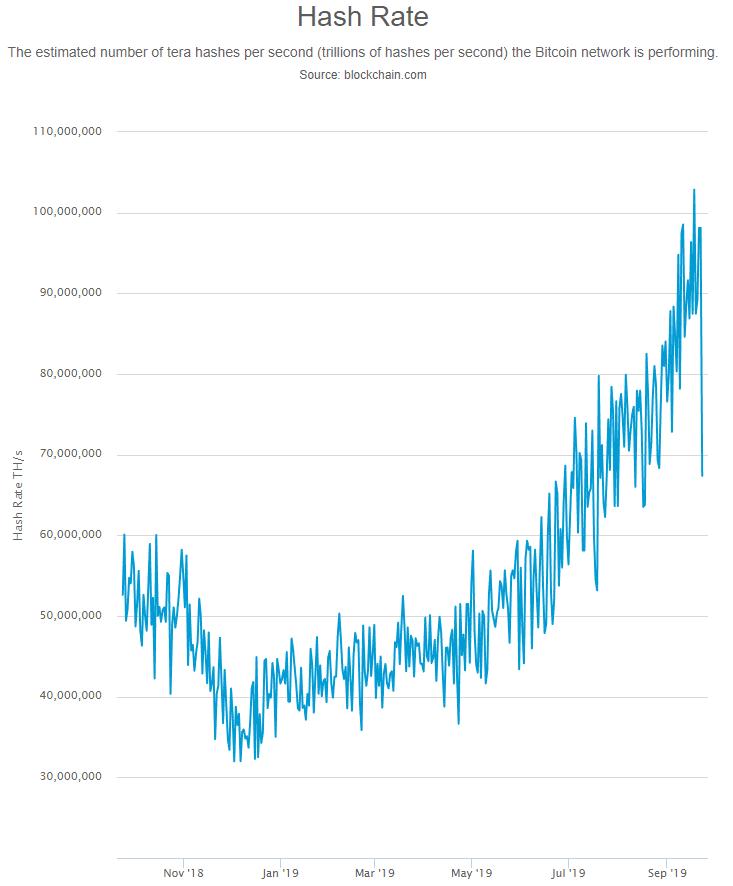 Oversold
The rsi is 17, which is the lowest it's been since bitcoin was at 3000, indicating that it is vastly oversold.
We've been saying since June that this correction will likely take us to $8,500, which is the 50% retracement of the December to June rally. The price dropped today a little beyond $8,500 today, so maybe we'll hit the 61.8% Fibonacci retracement instead, which would get us down to the low $7,000's, but that's it. Regardless, I've fully re-committed a portion of sidelined money at $8,400-$8,500.
I'm happy with my re-entry point, because V-shape recoveries are very difficult to catch exactly at the trough. After the coming bounce, it will matter little to me if I bought at $8,500 or $7,200. This next leg of this bull market will likely see the first challenge in almost two years to the ATH. Some analysts expect this will happen before the end of the year.
Those who predicted $20,000 BTC by the end of the year may still be proven right.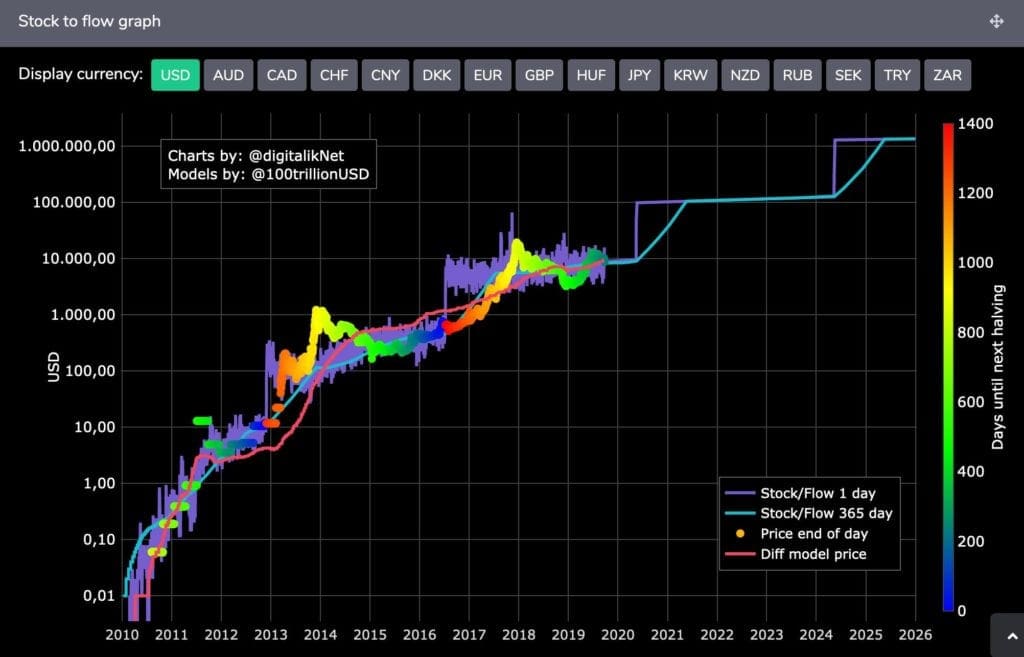 So, there is no clear culprit, and no clear course of action in the midst of a tumultuous storm. But, we will be patient and wait for things to calm down, all while seeing the long term opportunity.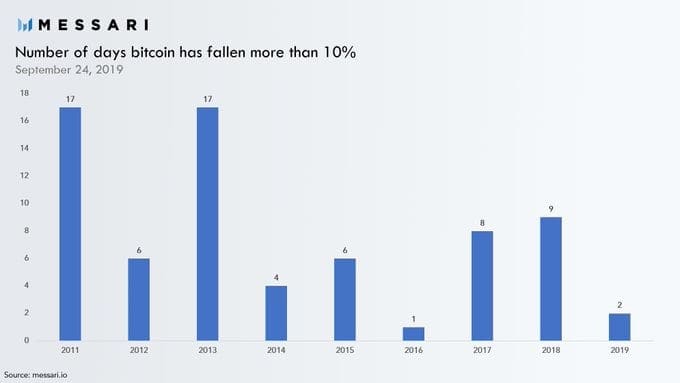 Hang in there.
Press the "Connect" Button Below to Join Our Discord Community!
Please DM us with your email address if you are a full OMNIA member and want to be given full Discord privileges.
An Update Regarding Our Portfolio
RSC Subscribers,
We are pleased to share with you our Community Portfolio V3!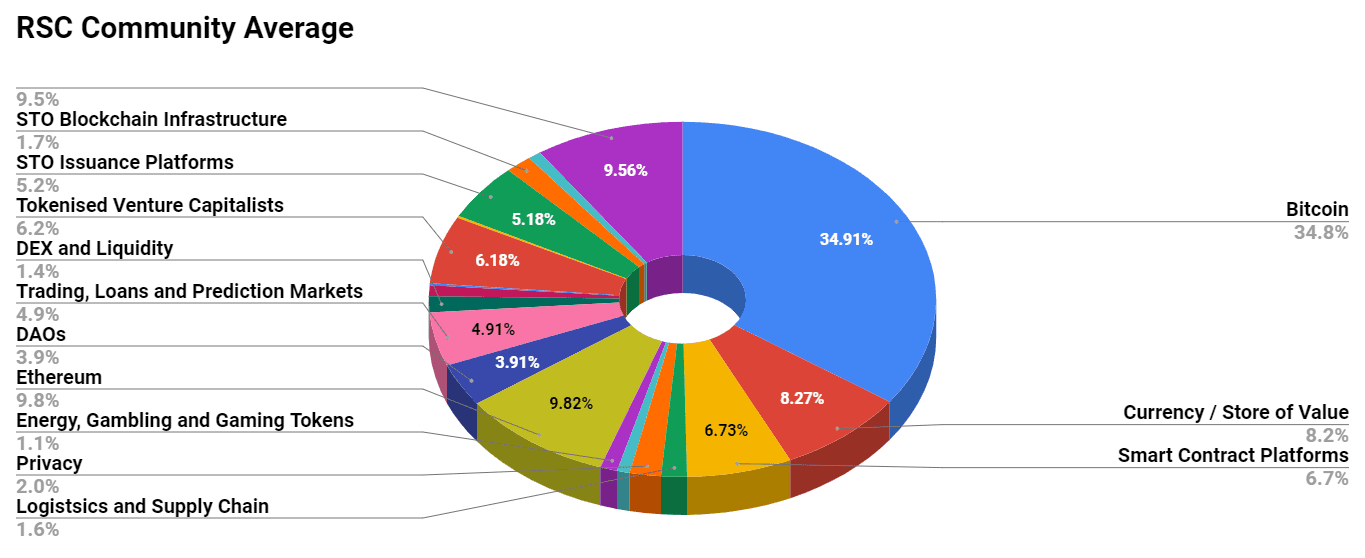 Add your own voice to our portfolio by clicking here.
We intend on this portfolio being balanced between the Three Pillars of the Token Economy & Interchain:
Crypto, STOs, and DeFi projects
We will also make a concerted effort to draw from community involvement and make this portfolio community driven.
Here's our past portfolios for reference: 
RSC Managed Portfolio (V2)
 [visualizer id="84848″] 
RSC Unmanaged Altcoin Portfolio (V2)
 [visualizer id="78512″] 
RSC Managed Portfolio (V1)